Since retiring from the spotlight in 2002 after nearly four decades of performing, the members of the Statler Brothers — whose group name was actually inspired by a brand of tissues — are spending their time in a variety of ways. Don Reid has become an accomplished author, publishing seven books since the group's retirement and blogging at donreid.net. He has many speaking and pastoring engagements and says that he, his brother Harold Reid and Phil Balsley all serve as elders in their church, where he has taught Sunday school for 30 years. Don and his wife Debbie are very grateful for the time to spend with family, taking their grandkids to school each morning to connect with them.
Harold relishes family time as well, regularly attending his grandchildren's sports events and spending time with his wife Brenda on their farm. And while Don and Harold check in at the Statler Brothers office every couple of weeks, Phil truly enjoys having coffee there every morning and managing the day-to-day operations. Don describes the arrangement as "the perfect marriage for all three of us." Jimmy Fortune and his wife Nina moved to Tennessee, where Jimmy has continued pursuing his love for music through a solo career. He has written songs for many other artists and has recorded his own albums, the most recent one being 2012's Lessons. And he reconnects with the other three guys at least a few times each year over lunch, to remininisce.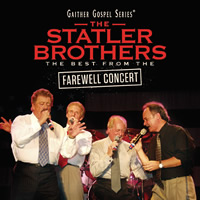 When asked if they miss the stage, Don says, "I think I can honestly say that we don't. Not that we didn't love it while it was happening. We loved it and felt blessed being able to do what we loved. But there came a time when we were ready to go." He says that as of now, there are no plans for a reunion tour or concert. "We'll just be thankful for the blessings we've had and enjoy life here on the sidelines. God has been good to us." However, they are excited about the new release of
The Statler Brothers: The Best from the Farewell Concert CD
and
The Statler Brothers Farewell Concert DVD
, both from Gaither Music Group, which will be available April 23 in Cracker Barrel and other venues. They have also had many fan requests to put their former TV series on DVD, and Don says that this is now in the works and should be available sometime in the near future. "The Statler Brothers Show" aired on The Nashville Network for seven years, enjoying the network's number one spot for its entire run.
Looking back over the group's legendary career, Don reflects, "We met all our heroes together. We saw the world together … shook hands with presidents together. We experienced failures and triumphs together. We learned early on there is nothing in the world like a good friend, and we each have had three of the best."