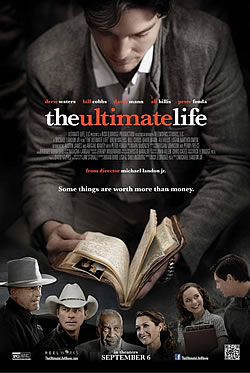 Can money bring happiness? That's one question explored by the new uplifting family film
The Ultimate Life
, opening in theaters
September 6
. Based on Jim Stovall's bestselling novel,
The Ultimate Life
is both a sequel and prequel to
The Ultimate Gift
, the inspirational tearjerker which featured James Garner, Abigail Breslin and Drew Fuller. That story introduced spoiled and lazy Jason Stevens (Fuller), a trust fund baby who hopes for a cash windfall when his grandfather dies. Instead of money, "Red" Stevens (Garner) has prepared a series of 12 "gifts" which take Jason on a challenging journey of personal growth that completely transforms his life.
Jason returns again (played by Logan Bartholomew) in
The Ultimate Life
, now as a young businessman with priorities askew, struggling to balance the demands of work and family. While trying to find solutions, Jason is given the journal his grandfather had kept, revealing Red's own struggle to balance life's priorities and discover what is truly important. Young Red's story comes to vivid life onscreen, as he hops a train in his quest to escape poverty and find wealth.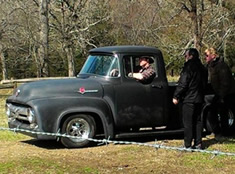 (Pictured left: Scene filmed in Winston-Salem, with director Michael Landon Jr. ) Homecoming Magazine
visited the set of
The Ultimate Life
in Winston-Salem. The scene depicted a scorching Texas day, but the actual North Carolina temperature hovered in the 30s. The actors, crew and director Michael Landon Jr. braved the cold in short sleeves, even being sprayed periodically with water to simulate sweat. Actor Drew Waters ("Friday Night Lights"), who plays Red Stevens (in his 30s and 40s), was covered in a combination of black food dye, laundry detergent and melted chocolate, to simulate crude oil. He laughingly told us later that it took forever to scrub the concoction off.
We also spoke with producer Rick Eldredge (
The Ultimate Gift
,
The Perfect Gift
,
Hermie & Friends
), who emphasized the importance of this story's values and ethics in today's culture. "It really focuses on the things that are important, the things that matter most."
Rather than making overtly Christian films, Eldredge attempts to reach a larger audience by making wholesome films undergirded with a Christian worldview. "The Ultimate Gift played in public high schools all over America, and not many films that have [these kinds of] messages and values can do that, so we're proud about that. My goal is to try to make films that, at the highest level, will compete with the general marketplace, but at the same time, give the viewer food for thought."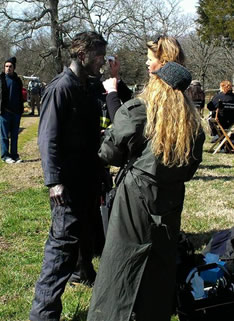 Eldredge also reveals that through events organized around the release of The Ultimate Gift, about 25 million dollars were raised for charity, and he's hoping that trend will continue with the release of The Ultimate Life.

(Pictured right: Drew Waters, transformed with a little makeup magic)

The upcoming film features familiar faces from the first film — Ali Hillis, Bill Cobbs and Lee Meriweather — as well as new additions Austin James, David Mann and Peter Fonda. Rick Eldredge tells us that Fonda enjoyed being part of the film and commented when he arrived on set, "It's good to be playing a good guy, finally, for a change." He plays the role of a wealthy businessman who teaches young Red Stevens some valuable lessons.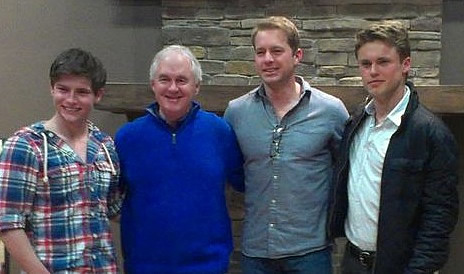 [Austin James, Rick Eldredge, Drew Waters, Jack DePew]
The Ultimate Life
is, in this editor's opinion, worth a look! Here's a sneak peek: