The Talleys
lost a dear loved one this past week.
Mr. David Lafaitt Spraggs
, father of
Debra Talley
and grandfather of
Lauren Talley Alvey
, passed away in Clinton, Kentucky, on Wednesday, June 22. He was 89 years old.
Mr. Spraggs was a WWII Navy Veteran, a member of Clinton First Assembly of God and a pipefitter for Goodyear. He is survived by his wife, Patricia England Spraggs of Clinton; Daughter, Debra (Roger) Talley of Morristown, TN; sons Eddie and Gaylon Spraggs of Paducah, KY; daughter, Charlotte (Derry) Rogers of Martin, TN; two sisters, Wanda Jackson and Juda Dean; seven grandchildren, five great-grandchildren and other family members.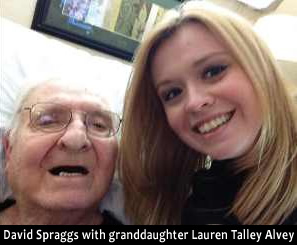 Lauren Talley Alvey posted the following on June 25:
It's been a sweet two days with my wonderful family. We've laughed, cried, hugged and prayed with and for each other. The way the family of God does.We're a big, rowdy bunch; my grandma's little house will hardly hold us all, plus the many friends who have stopped by to check on Grandma and brought enough food for the whole county. Family gatherings tend to be loud; it only gets quiet when we start eating. There's always a funny story to be told....

We're not perfect. We've walked hard roads with each other. We've forgiven, stuck by each other and learned about God's grace firsthand. We have my sweet grandparents to thank for that. They taught us about the Lord and lived for Him in front of us. Today we said goodbye to my grandfather, who finally has all the time he needs to talk to everybody in heaven.

Treasure your family relationships; they're the ultimate success in life. And when we get to the big family reunion in heaven, watch out for the Spraggs bunch, cause we're gonna be loud.