When I was 20 the most influential book I read was Dr. Norman Vincent Peale's
The Power of Positive Thinking
. From that point on, his book was the rudder to my ship.
At some point my infatuation with Dr. Peale matured from "favorite author" to "friend, fellow church member and business partner," and an astonishing map of Godwinks would connect Dr. Peale and myself.
As a New York-based ABC executive, I had a weekend home north of the city in Sherman, Connecticut. One Saturday, while driving over a "mini-mountain" in Pawling, New York, I came across the sweetest little New England church, against a backdrop that could have served as a model for a Grandma Moses painting. White church, tall steeple, and black shutters. It was called Quaker Hill Church.
Not long after, I received jarring news that ABC was being taken over by Capital Cities Broadcasting. And, though I may have looked calm on the surface, the uncertainty of this new situation was disquieting. Mergers and takeovers usually result in massive downsizing of employees.
On a Friday afternoon all the top ABC executives on the East Coast were gathered into a large studio to be introduced to our new bosses. Incoming CEO Tom Murphy, the head of Capital Cities Broadcasting, had the task of putting everyone at ease and to advise how the transition was going to take place.
After the meeting, while driving up to Connecticut, I admitted that I liked Tom Murphy, and felt a little better about the future, still … there was no way of knowing how the merger would affect me personally.
My daughter Hilary, visiting that weekend from college, suggested on Sunday morning that we to go to church, and the little church atop the mini-mountain came to mind. The church service that day turned out to be a very pleasant experience and it inaugurated a longtime commitment to a place of worship.
During that first coffee hour, members of the congregation shared that one of their members was a famous author who lived in the country farmhouse across the road to the right of the church. He was Dr. Norman Vincent Peale.
"Wow!" I said, "He's my hero."
They then pointed to a picture on the wall and told how Lowell Thomas, the famed news broadcaster, had once been active in the church and that his burial place was right behind the church.
The following day, a Monday, I carried warm snapshots in my mind of the folks at Quaker Hill Church on a flight to my West Coast office.
Arriving at ABC in Los Angeles, I learned that the Capital Cities team was there. This time, I had an opportunity to meet Tom Murphy face to face, and an amazing Godwink began to reveal itself. Tom was talking about the heritage of Cap Cities, founded by news broadcaster Lowell Thomas.
Lowell Thomas? My eyes widened as I connected the dots! This was amazing!
Swelling up, I decided to impress the new boss … telling him something he probably didn't know.
"This is extraordinary, Tom," I said, looking him confidently in the eye. "Just this weekend I visited a little church back east for the first time, and Lowell Thomas is buried behind that church!"
The way he cocked his head and narrowed his eyes, I realized that Tom Murphy was about to tell
me
something that I didn't know.
"Squire, this is what the little church on Quaker Hill means to me. Go out the front door, look across the road, and there's a big white house with black shutters."
I nodded as that image came to mind, mentally noting that he was not referring to Dr. Peale's house on the right.
"Well, that was the very house I was brought to, and offered my first job at Cap Cities."
Wow again!
I realized I had nothing to fear about my future at ABC.
Years later I still shake my head in disbelief at the Divine Alignment of people and events, over the course of a single weekend, and across the entire country, weaving together ABC, Dr. Peale, Lowell Thomas, Tom Murphy and myself.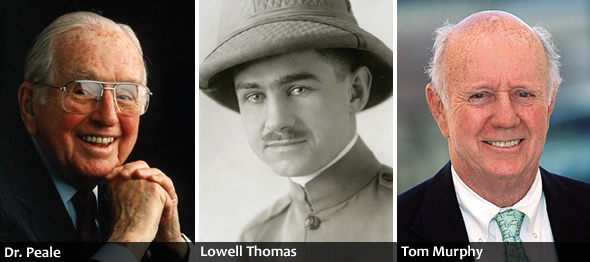 I attended Quaker Hill Church for several years and was honored on several occasions to be the guest speaker. One such weekend, we had very sad news. Dr. Norman Vincent Peale had died on Christmas Eve and was buried the day before we arrived, behind the church.
In my opening remarks I quoted President Clinton: "What a coincidence that Dr. Peale, who spent his life celebrating Christ, should be called to the other side on the very eve that the world celebrates the birth of Christ." That comment by the president was very apt. You see, my long-planned topic was: "Coincidence: Is It Evidence of God's Grand Plan?" My talk focused on the extraordinary Godwinks which connected Dr. Peale and myself, along with Tom Murphy and Lowell Thomas.
In fact, it was the encouraging response from that congregation on that day that fostered my quest to write the now six Godwinks books that are in the marketplace.
Did I say "Wow" one too many times?