It was the end to a perfect day. Diane and I had driven with our three granddaughters up an old mining road high into the mountains of Colorado and set up camp in a little meadow at 10,500 feet. All day we rode ATV four-wheelers on narrow trails that snaked above the tree line to abandoned gold mines. We climbed to the tops of rocky ridges where we could see for miles in every direction. I relished my role as hero, trailblazer and camping expert to the three little girls who shared this adventure: Kialee, the studious competitive athlete; Lexi, the drama queen; and 4-year-old Jadyn, part-time affectionate princess and full-time nemesis to her sisters.
After a long, exciting day, we returned to our cozy campsite to fix dinner. Every meal you can think of is a hundred times tastier when cooked over a campfire. That night we had filet mignon, known to non-campers as hot dogs. Dessert was s'mores. Finally, little eyelids began to droop. We allowed the fire to settle and then tucked our treasures into toasty down sleeping bags and gave thanks for a magnificent day spent enjoying God's creation.
At the first hint of dawn, we awoke to the three amigos shaking us and shouting, "Wake up! Wake up and light another fire!" We were out of wood, so I slipped into cold, stiff clothing and icy boots to lead the girls on our first adventure of the day — gathering firewood.
I was concerned about princess Jadyn. She could easily be hurt, so as we crossed the old mining road, I handed her a fallen branch and said, "You can take this tree to Yaya," [their name for Diane], "and help her start the fire." With obvious delight, Jadyn dragged her personal tree back toward camp. When she was almost to the campsite, we turned to search for bigger timber. That was the last place I saw Jadyn.
Evidently, she got almost to our campsite and then decided, "I would rather be with Grandpa," dropped her personal tree, and wandered into the wilderness, at 10,500 feet, searching for me. We returned with our supply of wood and began to prepare for breakfast. Diane asked, "Where's Jadyn?"
"Isn't she with you?" I replied.
Her eyes widened. "No! I thought she was with you!"
In panic we exploded from the campsite in every direction, screaming Jadyn's name. In the first hour after she disappeared, I ran as fast and far as I could along every path I thought she might have taken. I retraced the steps we took to gather wood. At first, hope lingers in the midst of adrenaline-fueled panic. "Maybe I'll spot her pink matching outfit in the next meadow. Maybe on the next breath of wind we'll hear her voice. After about two and a half hours I began to steel myself for the worst.
Storm clouds were rolling in over the peaks. The temperature could drop to dangerous levels in minutes, and if it started to rain — I couldn't allow my mind to go there. Jadyn was my little partner, my little princess. I was her hero. She trusted me. I couldn't let her down. As the search team began to assemble, one member asked for some of Jadyn's personal items — bits of clothing that might give search dogs a scent they could follow. Diane and I were inconsolable.
After three hours of calling, my voice was gone. Sobbing, I went to search a swampy area further up the mountain between the creek and the old road; a stretch of bog covered with almost impenetrable brush and potholes full of mossy, stagnant water.
As I clawed my way uphill through the muck, my boot caught in the tangled brush and I fell into a small pool of water maybe a foot and a half deep. I had run and called for over three hours. I struggled to get to my feet but I couldn't move. My strength was completely gone.
I had reached the end of myself. I could only weep and pray in a hoarse whisper.
"Dear God, I have nothing left. You can have my career. Take my savings. Take my house. Take my airplane. Take all the stuff I have cherished." My voice gave out completely, my final plea was a silent one. "Lord, I cherish this little girl more than all my possessions. If need be, take my life. Take me. But please bring this baby back." At about that same time a teacher and her husband who had come up into the mountains to go hiking spotted a little girl in a hot pink tee shirt sitting on a rock.
"Are you OK?" the woman asked gently.
"I cannot talk to you!"
"I'm not a stranger; my name is Molly. I'm a teacher."
"Well OK then."
Now it was safe to let the tears flow; safe to take Molly's hand and between sobs blurt out the truth as she knew it.
"My grandpa is lost."
My prayers had been answered. I especially remember one moment during the joyous reunion because the rescue team sent me a picture they had taken. In the picture I am crouching down to Jadyn's level, holding her hands. I didn't scold her, I didn't lecture her on the dangers of the wilderness. I remember the exact words I spoke to her. I memorized them.
In a raspy whisper, over and over I said, "I love you. I love you. I love you." Those are the only words that would come out 
of my mouth. They were the only words that mattered.
Suddenly it hit me: That's how God feels about me. That's how He feels when one of His children finally comes to Him after being lost. That's how He feels when one of his children steps from the wilderness of mediocrity onto the path of living fully alive!
Jadyn's rescue on the mountainside that day wasn't the end of a story, it was the beginning of one. At 63 years old, I had come face to face with truth that would change my life.
The trinkets of life mean nothing. Living fully alive is about loving people and trusting in the love of the One who loved us most.
Every day is to be lived to the fullest. Some of us who are skating on a golden pond are tempted to put our life in neutral and coast. But God isn't done with us yet. We have no guarantee of tomorrow. We have only today. Live it with gusto.
All things work for good to them that love God and are called according to His purpose. Not some things. Not just the good things. All things! It took me a year, but finally I dealt with a question that had plagued me all that time. As I stood proclaiming the good news of Christ, the question would rattle in my head like a marble in an empty pail. "What if Jadyn had never been found? Would I still be able to worship God and encourage people to trust Him?" Almost a year after her rescue, I took a trip back to where Jadyn had disappeared. God met me there. The pink ribbon the rescue team had tied to the tree to mark where she had last been seen still fluttered in the breeze. I knelt at that spot and wept. I realized that if ever there was a time when I would need a faith that proclaimed a God who loved that little princess more than I did, it would be in that "what if" moment. If ever I would need a faith that held the promise of eternal life, it would be in that "what if" moment. If ever I would need a God who would provide the strength to live through such a tragedy, it would be in that "what if" moment.
That place is like an altar for me. My life will never be the same. As a result of my encounter with God, I am a different person — physically, socially, mentally and spiritually. Henry David Thoreau said, "Many men lead lives of quiet desperation and go to the grave with their song still in them." Not me. I'm going to sing at the top of my lungs. I want to glorify Christ with my life till I draw my last breath. The glory of God is man fully alive. I'm not a stranger, I'm not an expert; I am a fellow traveler and I fall down a lot. But God has never failed to pick me up.
Come with me. For God's sake, let's live!
For more articles featuring Ken Davis, click here.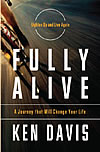 Article adapted from Fully Alive: Lighten Up and Live Again — A Journey That Will Change Your Life by Ken Davis.