When THE CRABB FAMILY disbanded in 2007 to pursue solo ministries, it felt as though there was a collective sigh of disappointment from Southern Gospel fans who loved the talented siblings and their unique sound. Well, those fans now have reason to rejoice as the family reunites on TOGETHER AGAIN, a new album set to release in February.
It's amazing how time flies," Jason Crabb, the eldest of the siblings, tells Homecoming. "We let seven years pass before we did a record, and we just figured it was time to give the people something new. It's the same message we're sharing, but musically up to date. We're very excited about it."
Together Again
reunites Jason with twins Adam and Aaron, sister Kelly Crabb Bowling and sister Terah Crabb Penhollow. The group rose from humble roots in Beaver Dam, Ky., to become one of the most popular acts in gospel music, winning 11 Dove Awards and earning three Grammy nominations. The Crabbs announced they were parting ways in 2006 and performed their last show together in 2007, splintering to form individual ministries. These days Aaron and his wife, Amanda, are worship leaders at Pastor John Hagee's Cornerstone Church in San Antonio, Texas. Kelly and Terah perform with Kelly's husband Mike as the Bowling Family. Adam also continues to record and tour.
"We've been doing our own thing now for almost five years, and for the first time it just felt like the timing was right," Kelly says of the group recording Together Again. "Jason threw the idea out there one day and everybody was like, 'OK that sounds fun! Let's do it!'"
Though they united to record
Together Again
and for the
Back to the Front Porch Tour
, which launched in November, they all still maintain their own ministries.This presented a bit of a challenge for Jason, who produced the new CD. "It was really different," Jason says of trying to coordinate everyone's schedules. "Seven years ago everybody's lives were focused on the Crabb Family, so when you were off, everybody was off and everybody worked on the records together. Now Aaron had to fly in from Texas to do his part. I had to find dates that Kelly and Terah were off and that Adam was not on the road."
Once they were all back together in the studio, the creativity owed. "We've always had a lot of fun in the studio, so actually going back in the studio was sort of just like going back home," Terah says, describing the new music as "a still familiar sound, but with probably a little bit more diversity in the vocals. It was more fast-paced in the studio. You didn't just go in and do your one or two songs. It was a lot of working hard together."
It was Jason's idea to take a different approach to recording their vocals, intermixing the lead lines within a song instead of one person taking lead on the whole tune. "We used to get songs and say, 'OK here's your song for the record,' and then we'd go in and sing it and add harmonies . . . but the majority of this record we cut in keys where everybody could sing the lead lines and make it more a family effort on stage. I thought this whole record through as if we were walking out on stage to sing these songs. It's more like the family steps out and we all have our part in the song, so that's kind of the way that we went, and it turned out great. I wish we had done more of this during those earlier days."
Jason's siblings loved the new approach he took in the studio. "He thought it would be cool to focus on switching it up and making it a little bit different than what people would expect," Kelly says. "He thought that would be more exciting live — to switch it up and give that to the people. It made it more interesting, and in a lot of ways more fun because it was 'creating as you go.' That's always a cool experience."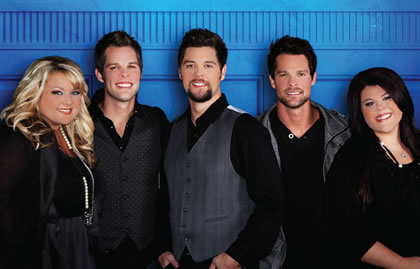 [Kelly, Adam, Jason, Aaron and Terah]
Together Again
is a perfect blend of the signature Crabb Family sound that made the young vocalists one of the most successful groups in Southern Gospel, along with some fresh touches that signal an exciting new chapter. And as a result of the experience gleaned from their separate ministries, there's a newfound depth and maturity.
"What I'm excited for people to hear is the maturity of the voices," Jason says. "Everybody has gotten older; they've experienced more life and you can tell. It's right from the heart and there's life in it. There are good things in that vocal and there are some trying times as well. You can hear that seasoned voice in everybody now, and man, I can't wait for people to hear this. I'm very, very excited about it."
In addition to being proud of his siblings, Jason is also proud of the work his band contributed to the recording. "My band that I carry on the road played on every track," he says. "They outdid themselves. They played better than I've ever heard them."
In looking for songs to record, they turned to some of the industry's best-known writers, among them Neil Thrasher, who cowrote Jason's solo hit "Somebody Like Me," and of course, Crabb Family patriarch and Dove Award-winning songwriter Gerald Crabb, who contributes "God's Got a Plan." "If there's anything that's straight-up Crabb Family that you would hear in the day, that's the song that we went back to and did like what you'd hear if we had cut another record," Jason says of the tune Gerald penned with Don Poythress.
It is reminiscent of previous Crabb classics. "I think people are really going to like it because it takes you back to that day. It's a current track, current lyrics, but it still has that feel."
"This is You and Me" gives the Crabb ladies a chance to shine. "That was the first song Terah and I had together," Kelly says. "In the Crabb Family days, the three boys did songs together, but we never really took the time to find a song for us, so it's neat to have a girl-power song. It's very spunky, so that will be fun to deliver live and it's a great message too."
Kelly cites the first single, "If There Ever Was a Time," as another of her favorites. "This song takes me back to my childhood when I would hear people stand up in church and say how much they needed the Lord to be there and to hear and answer their prayers," she says of the song which was written by acclaimed songwriter Sue Smith.
Jason cowrote two songs on the new album, including "Back to the Front Porch" which he penned with Sonya Isaacs and her husband Jimmy Yeary. "It talks about faith, family and our roots," says Kelly. "Everybody knows we're from Kentucky and we weren't born city slickers. We were born in the country and we're faithful to where we came from. Those roots are the church, God, faith and family, and all that is what that song is about."
Though they plan to continue their separate ministries, the Crabb Family is enjoying this new season of togetherness. "It was a career move with five different ministries spreading," Terah says of the group parting ways, "but we all love to sing together. There ain't nothing like getting together with your family and singing. We all definitely missed that."
Kelly agrees. "We all love our lives and we're blessed in our ministries," she says. "God has been good to us—even though we are all totally doing our own ministries. We're so proud of one another, and it's just good to go back home and enjoy where you came from."
For more articles about the Crabb Family, click here.