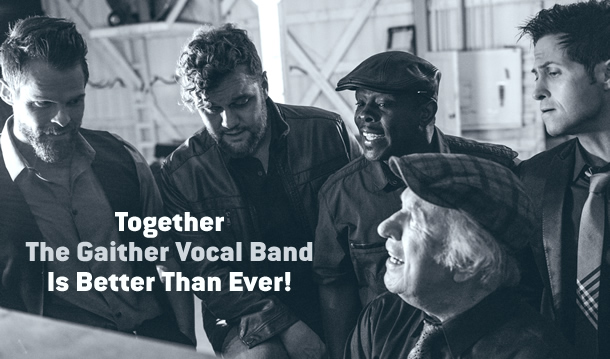 All voices on deck for what may be GVB's most ensemble-driven recording.
Thirty-five years into their run at the highest level of male-vocal performing and recording, the Gaither Vocal Band — Bill Gaither, David Phelps, Wes Hampton, Aaron Crabb and Todd Suttles — takes group singing to a whole new level. Their newest album, Better Together, features the guys, well, better together — there is barely a solo to be found in the entire project. And in keeping with the vocals-forward recording style, the melodies themselves on this wall-of-voices CD are a throwback: there are several spirituals and Civil-War-era melodies, with only two tunes written since the turn of the 21st century. Energized by the young men flanking him these days, the band's namesake and leader lights up when talking about the new rich sounds he's hearing on stage and in the studio.
"I have sung with, I think, the best male singers in our field," says Bill. "But I have to say that this particular combination is just amazing — so much energy, and so much joy, and a lot more variety. I just sent our new project to an old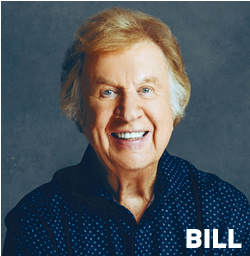 friend of mine who is always a critic. He'll say 'I like this, I don't like that at all.' He listens to the new one and says to me: 'This is not fair. You've got all of these voices, and you can do about anything you wanna do!'"
When asked if there is a go-to vocal arranger who has shaped GVB's sound, all fingers point to David Phelps — including the index finger of Bill Gaither. David reflects on the changes since the 2013 departure of famed members Michael English (lead) and Mark Lowry (baritone): "First of all, Adam (Crabb) comes from a longtime family group, and almost since birth he's sung with other vocalists. He has a mind for finding a part—and it'll only take him a second to get there."
Bill is thinking about the many gifted singers he has worked with in the band over the past four decades: "Looking at the 18 different members who have been in the group, with every new mixture it brings a different kind of strength. When Todd came, he helped us explore the lower harmonic range." Bill is not kidding. GVB's new baritone/bass, Todd Suttles, anchors the striking first track, "Working on a Building," with a timbre that gives fresh meaning to the word
foundation
.
"I'm probably the world's smallest bass singer," laughs the former athletic trainer from Vanderbilt University in Nashville. Besides helping student-athletes, and his own world-record weightlifting career, Todd had also logged a lot of hours in the recording studios of nearby Music Row, singing in a group known as the Settles Connection.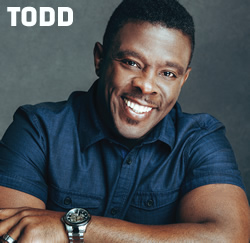 "I did a lot of background singing and we would be called in for spirituals and stuff like that." But even a veteran of Nashville's music scene wasn't fully prepared for the Gaither Vocal Band. "I was surprised at the music itself — the intricacy of it, the work that it takes to bring it all together. You've really gotta listen to each other, because it's a very fine line."
Phelps talks about Todd's unique gifts: "Todd brings … the word I always use is 'authenticity.' When you hear Todd sing, you believe it. It's a quality I had never heard in the Vocal Band before." He struggles to describe what is clearly an intangible attribute. "It just makes your ears perk up, and say, 'Wow, this is gonna be good!' So then along with Adam, Todd now brings us to this remarkable new midrange harmony place that is very different than the groups I've been part of over the years."
It is an unusually tight blend for non-family singers. Recognizing all that was going on with the layered vocals for
Better Together
, co-producer Ben Isaacs wisely held back on the instrumentation. Given the thickness of these vocals, he could easily have made the record with just his upright bass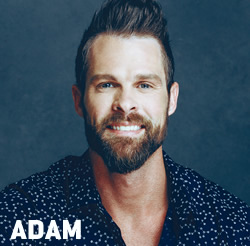 and a brushed snare drum. But with downhome tunes like "Moses Smote the Water," "Led Out of Bondage," "When He Set Me Free," "Walk on the Water," "Dig a Little Deeper in God's Love," "We'll Talk It Over (in the By and By)," and "Didn't It Rain," the placement of some tasteful electric guitar licks and a pinch of deepfried fiddle make this a delicious-sounding CD.
"The Vocal Band has always been able to sing with power." Bill is still trying to tie a bow on the subject of how this collection of singers sounds so different. "We had always had these big dramatic voices. But on this new project, with this team, I've never heard David's voice better than with these beautiful soft tones. People know David can do B-flats and Cs, but to bring it down to midrange and make something happen with the sweetness that Wes brings on these songs…" Gaither just throws his hands up. Words fail. Guess we'll just have to give it a listen.
And don't forget that Bill Gaither sings, too. On this new GVB recording he takes the lead on a tune most of us first heard sung by James Taylor, "You've Got a Friend." The 1971 pop-radio hit, written by Carole King (and recorded on her 25-million-selling Tapestry LP) takes on new depth of meaning when presented in a gospel context. The passage of 45 years since the song launched into popular culture allows these lyrics to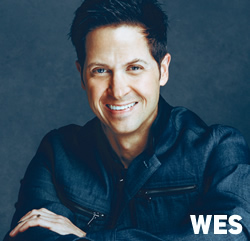 sound fresh and unexpected. Of course, finding a so-called "secular" song on a Gaither recording shouldn't come as much of a surprise. GVB recorded what we all remembered as the Coca-Cola jingle on their
A Cappella
CD a decade ago: "I'd Like to Teach the World to Sing (In Perfect Harmony)," and one of their most popular tunes, "Greatly Blessed and Highly Favored" was a lyrical rewrite of the Gatlin Brothers hit, "All the Gold in California."
But there
is
new material here — though ironically, the second-newest song happens to be based upon the oldest-known melody. Gloria Gaither's 2015- penned "I Need You More" is set to a 155-year-old tune, George R. Poulton's pre-Civil War "Aura Lee." This beloved 19th century refrain was re-popularized at the dawn of the pop-music era by Elvis Presley with new lyrics, and entitled "Love Me Tender." Sixty years would seem a decent interval to reintroduce a winsome ode with prayer-like lyrics:
Be my status, be my rest,
be my love and home
Be the one I need to please,
treasure that I own
Be my task and be my pay,
the One that I adore
You my source and destiny,
Lord I need You more
Written as it is in the first-person singular, and with such a narrowly constricted range, the power of this quiet recording is utterly unexpected. Hearing this intimate supplication sung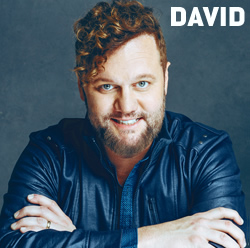 by many-as-one—both in unison and blended with close harmony — is an aural revelation, and a soothing comfort. Here is that "still, small voice" sung large.
And that brings us to the title track — and the newest composition — of this recording. "I just stopped by Dony and Reba's one morning (that'd be Reba Rambo-McGuire and husband Dony McGuire), and they asked what I'd been thinking about lately." Bill told them he'd been chewing on the phrase "our strength is in our diversity," and that something about it just struck him as odd. Along with songwriter Chip Davis, the foursome worked at inverting the phrase to emphasize not how "we're diverse; but brother, it's when we come together that we are most powerful."
Hearing Bill Gaither challenge a common expression on diversity is not as unexpected as you'd think. The congenial emcee and famed herald of gospel music is loath to wade into contemporary controversies. He even opens this night's concert declaring the auditorium a "presidential-politics-free zone," to the relieved applause of all in attendance. But rather than rail
against
a popular notion, he mines a deep vein of biblical knowledge to write an expression of what he is
for
: unity.
Bill sits in a circle with his bandmates and points at Todd Suttles: "You're not African- American, you're American." Suttles doesn't hesitate: "Every day!" And now Gaither's on a roll: "And I'm not German-English-American- Indian, I'm American. My good friend Woody married a Polish girl, but her mother said 'I'm not a Polish-American, I'm an American!' So my motivation in helping write this song is that we take all this stuff from our backgrounds, which are different—but we choose to come
together
."
Sisters and brothers, from every land
Loving each other, we reach out our hands
Divided we fall, united we stand
We're better together
And indeed, throughout all the shop-talk of "vocal air" and "pointed tone" and "mid-range blend" in their singing, what is striking is how much joy these guys take in highlighting what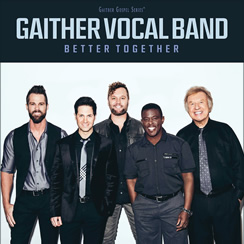 they like best about one or the other bandmate's singing. They truly enjoy getting together, and they flat-out
love
to sing the gospel.
Yet amid the goodwill and laughter, soft-spoken Wes Hampton confesses his own resistance to new/different members in the GVB — before he even joined the group: "I grew up as a massive fan. I had fallen in love with the group with Buddy Mullins, Jonathan Pierce and Mark and Bill. But I went to the 1995 GVB concert in Memphis and Buddy's not with them. There's this dude with long hair and a beard, and I'm like 'What is this?'" Huge laughter in the room, given that Wes would later sing alongside Guy Penrod for several years in the GVB. "But then," Wes continues, "Guy sang. And then Jonathan and Mark and Bill joined in with him. They all sang
together
. And I realized Bill had done it again: he'd banded together another diverse group of individuals."
There's no doubt in the mind of anybody who has attended a GVB concert that heart matters are at the core of Bill Gaither's purpose in still touring and producing and writing and arranging and singing at the tender age of 80 years.
And William J. Gaither has put in the effort over the long haul — not just with GVB, but with all the Homecoming artists, with the gospel music community, with his record and publishing company, to say nothing of church and family. "I still believe in the message. And I still love the art form — I love male harmony and seeing what happens when you put incredible voices together. I suppose I have lived a dream life."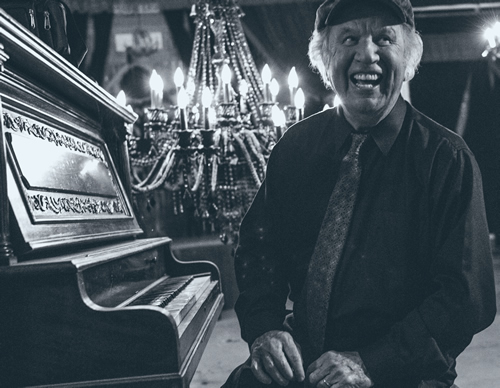 Photos by Lee Steffen