On May 11, 1972, an A-37B Dragonfly aircraft was shot down in South Vietnam. Crashing in enemy territory prevented a thorough examination of the site, but an identity card and other personal items were recovered. They identified the pilot as First Lieutenant Michael Joseph Blassie, but medical laboratories were unable to confirm a compelling match of the 24-year-old using only dental records and partial remains. On Memorial Day, 1984, the remains were laid to rest in the Tomb of the Unknowns at Arlington National Cemetery. President Ronald Reagan presided over the ceremony.
A reporter for the
New York Times
pursued the identity of the soldier for a decade. Pentagon reports and personal interviews convinced him of Blassie's identity. When the Department of Defense founded the Armed Forces DNA Identification Laboratory in 1991, the Blassie family petitioned them to open the burial site and conduct the newly discovered DNA testing on the Vietnam Unknown. In 1998, the tomb was opened and the remains removed.
Mitochondrial DNA testing compared the bone samples to those of Blassie's mother and sister. They found a match. On July 11, 1998, Michael Blassie was buried with full military honors in Jefferson National Cemetery.
Blassie's sister, Pat, attended a Gaither Homecoming concert and heard the song I wrote for my grandfather, "Another Soldier's Coming Home." She called my office and asked if I would perform it at the ceremony. I was scheduled to be on a Bible study cruise with Dr. Charles Stanley, but we arranged to fly back early and pay our own tribute to Michael Blassie.
It was overcast on that July morning. The roadway used to bring Blassie home was lined on both sides by American flags and saluting soldiers. Heads of state stood alongside veterans in bandanas and antiquated uniforms. Thousands paid tribute. This was a first for our nation; a breakthrough in scientific identification; a rally of remembrance.
Four low-flying F-15s executed the "missing man flyover." The solemn resound of the bugle left the crowd respectfully silent and pensive. Perhaps they recalled other soldiers they knew: their sacrifices and our indebtedness. Perhaps they pondered the unimaginable price of war. Perhaps some were thinking that all soldiers deserve to go home.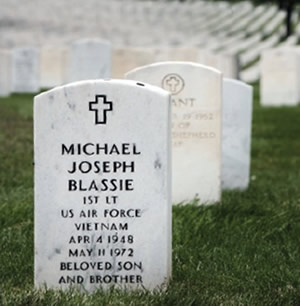 The song evoked new meaning in the shadow of his flag-draped coffin. There were few dry eyes as the flag was ceremoniously folded and presented to Blassie's mother. "For 26 years," she stated in an interview, "we were told that Michael was never found. I just want to bring my son home."
As Michael prepared to leave home the last time, his younger brother, George, questioned him about the danger of his assignment. Michael used a replica of the Dragonfly aircraft to reassure George that he would remain safe. Pointing to the left side of the cockpit, he promised, "For them to get to me, they would have to shoot into this tiny window. It will be hard for them to find me."
And so it was, Michael Blassie. And so it was.
His back is bent and weary, his voice is tired and low
His sword is worn from battle and his steps have gotten slow
But he used to walk on water, or it seemed that way to me
I know he moved some mountains and never left his knees.
Strike up the band, assemble the choir,
another soldier's coming home
Another warrior hears the call he's waited for so long
He'll battle no more, he's won his wars
Make sure heaven's table has room for at least one more
Sing a welcome song, another soldier's coming home.
He faced the winds of sorrow but his heart knew no retreat
He walked through desert places knowing Christ knew no defeat
But now his steps turn homeward, so much closer to the prize
He's sounding kind of homesick, there's a longing in his eyes.