A little over eight years ago, Phil Brower pitched an intriguing idea to Bill Gaither. It happened in Indianapolis, right after the evening show at PraiseGathering, which Phil had produced. What would happen if Bill (or "William," as Phil always calls him) took his love for Southern Gospel music and his access to the people who make it, put it all together with his encyclopedic knowledge of the genre and that enthusiastic personality he's so famous for…and turned it into a good old-fashioned radio show? Bill loved the idea, and several months later he and Phil went into the studio and put together a little half-hour demo. After playing it for some people in Nashville and getting an overwhelmingly positive response, Bill gave Phil the official go-ahead—and on October 1, 2004, starting with a modest 251 stations, Homecoming Radio was born.
Today, Homecoming Radio is on 1,884 radio stations worldwide, and with the help of Internet streaming and four different satellite systems, it is reaching listeners in 25 countries, our men and women in uniform via Armed Forces Radio, and even, according to a recent conversation Phil had with a radio station manager in Alaska, 1,500 miles into the heart of Russia. It is offered without charge to all broadcasters, has a catalog of shows available 24 hours a day on the Homecoming Radio website, and is completely commercial-free. "We're not selling anything," Phil explains. "Our goal has always been to provide an hour of wonderful music that will provide a smile and bring hope and encouragement to everyone who hears it."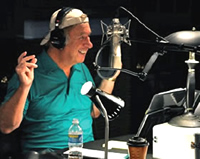 Bill's on-air radio crew now not only includes the mellifluous tones of Phil Brower, but familiar Homecoming personalities Kevin Williams and Mark Lowry — and in the interest of full disclosure, ME, the token chick among all of those crazy guys! I can tell you without reservation that it is indeed as much fun as it sounds, and the spirit of love and laughter that comes across in every broadcast is 100 percent authentic. Phil scripts the show with a decidedly retro feel and is responsible for the snappy patter and inspirational pieces each week that listeners respond to so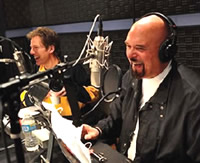 strongly. Bill sets the easy-going, sharing-a-cup-of-coffee-with- you tone of the show, as well as bringing interesting facts and behind-the-scenes stories that could come only from someone with his history and position in gospel music. Kevin's lightening-fast wit and professional polish totally classes up the joint, while the inimitable and incorrigible Mark Lowry presides over a revolving guest chair that has recently included country greats Larry Gatlin and the Oak Ridge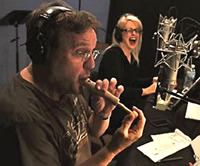 Boys' Joe Bonsall. Upcoming guest hosts include Jeff Easter, Gerald Wolfe, Karen Peck and Gordon Mote. And as for me? Well, apparently I'm the blonde female equivalent of every morning drive-time radio show's big ol' Bubba character, whose main function seems to be to laugh hysterically at everyone else… You can't blame me, folks—these guys are FUNNY!
Phil Brower describes the heart of every Homecoming Radio broadcast this way: "People write us and say that they enjoy the funny moments and the serious moments, and that the music really touches their hearts. But the one thing that I hear again and again from our listeners is, 'Thanks for the joy.' And that means everything to us."
For more articles featuring Homecoming Radio, click here.