We're excited about the great new CD and DVD releases coming out this summer and fall from Gaither Homecoming artists ... let's take a look at a few of them!
First, we know you'll enjoy the sweet sounds of Joey & Rory on their CD
Inspired
, releasing on July 16. The album features a delightful blend of beloved classics including "In the Garden," "Amazing Grace" and "Are You Washed in the Blood?" as well as new originals such as
"Hammerin' Nails," written by Rory and "I See Him," written by the couple and their daughter Heidi. Rory co-wrote "Gotta Go Back" with country superstar Josh Turner.
And for those of you who may not know, this adorable couple can be seen regularly on RFD-TV with their own TV series, "The Joey & Rory Show." Filmed entirely on location in the small community of Pottsville, Tenn., where Joey and Rory have been living, dreaming and raising kids and corn for the last decade, this weekly series is filled with inspiring music, fun stories, heartwarming insights and behind-the-scenes footage of their lives. Season three episodes just began airing on July 5, and you can find out more information
here.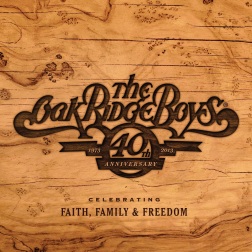 On July 30th, the Oaks will introduce their much-anticipated CD,
The Oak Ridge Boys 40th Anniversary
, a quintessential collection celebrating God, country and family. Fans will love listening along on this musical journey through the Boys' most beloved hits spanning the past four decades, from "Elvira" to "G.I. Joe and Lillie" to "The Star-Spangled Banner." This album can be preordered at
gaither.com
, and you can view exclusive footage of Duane Allen, William Lee Golden, Joe Bonsall and Richard Sterban sharing their thoughts about this milestone recording by clicking
here.
The Isaacs have been working hard on a CD,
The Living Years
, and a DVD,
Up Close and Personal
, both releasing on August 13. They worked on both projects at Gaither Studios in Anderson, Ind., working with Bill Gaither to capture the perfect sounds. The album will feature a fantastic version of "The Living Years," plus other favorites including "I Know Who Holds Tomorrow," "Grandpa (Tell Me 'Bout the Good Ol' Days" and the Dottie Rambo classic "If That Isn't Love."
Viewers will get to know this beloved family group a little better on
Up Close and Personal
, which will feature candid stories and conversations with the Isaacs, live music and a wonderful collection of best-loved Isaacs moments from the Homecoming series.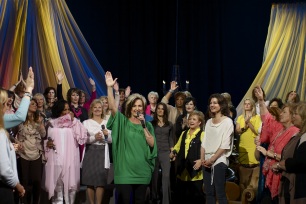 Finally, we can't wait for the release of the
Women of Homecoming
DVDs, arriving on September 24. This Homecoming taping was held in Nashville, where Bill Gaither was a little outnumbered by more than 80 female artists from gospel and contemporary Christian music.It was an amazing day of laughter, tears, inspiring teachings, heartwarming stories and, of course, fabulous music! We can't wait for you to see it! For a little sneak peek, just check out the great collection of photos from the taping, found
here!