(Excerpted from Vestal's personal note to Gloria): This is my most requested and celebrated cake recipe. I've changed it slightly, but believe me, the results are the same. (Ask Bill: The last time he had it, it was from this recipe — basically the same, maybe even better.)
When I first made this cake, I had too much frosting, so I said to myself, "This cake needs four layers." So, as soon as the layers cooled, I got me a spool of thread, tore a long strand and started sawing back and forth and made four layers out of two. It was great!
Vestal Goodman's Famous COCONUT CAKE
Ingredients
• 1 white cake mix
• 2 8" round pans

Set Aside
• 5 pkgs. frozen coconut
• Milk from 2 fresh coconuts

Frosting
• 3 egg whites
• 1 cup of sugar
• ¼ cup of white Karo syrup
• ¼ teaspoon of cream of tartar


Directions
Mix batter and bake as directed on the box.
When done, cool, then turn out onto waxed paper, top-side up
to cool completely.

(Punch holes in coconuts and drain
into a measuring cup. Strain and set aside to use last.)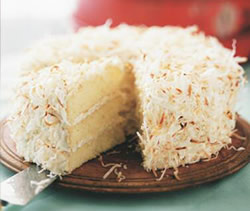 Place all ingredients in the top part of a double boiler. Bring 2 cups of water to a low boil in the bottom of the boiler. Put the top unit on the double boiler and immediately begin beating with an electric mixer until it's well mixed. Beat constantly on high for approximately seven minutes as peaks form. Begin icing the first layer of cake and cover with coconut. Continue with each layer; when you get it as pretty as you want, take a long, sharp knife and gently poke holes into the middle of the cake (3 or 4), and slowly pour in the coconut milk. Cover with a cake cover and refrigerate.