We can bear-ly contain ourselves! It's time to announce the winners of our
We Bought a Zoo
contest! We've agonized over the entries and it was hard to narrow them down to three. Thank you to all who entered! Before we announce the winners, here's a classic bear joke you might enjoy :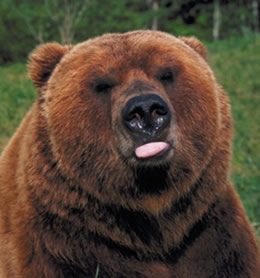 A park ranger is giving some hikers a warning about bears, "Brown bears are usually harmless. They avoid contact with humans so we suggest you attach small bells to your backpacks and give the bears time to get out of your way. However, grizzly bears are extremely dangerous. If you see any grizzly bear droppings leave the area immediately." "So how do we know if they're grizzly bear droppings?" asks one of the hikers. "Oh, that's easy," replies the ranger. "They're full of small bells."
And now, without further ado, here are the three winning entries, in no particular order. Each winner has been notified and will receive a copy of the DVD,
We Bought a Zoo
:
•
"Those Gaithers are so good! The last one was delicious!"
- from Ramona W.
•
"It's so unBEARable. I wish I could be on one of those Gaither videos with Bill and Gloria and all the Homecoming singers!"
- from Kathy P.
•
"Look, I'm Mark Lowry...it's uncanny, right?"
- from Stephanie P. (who also provided the photo below for comparison)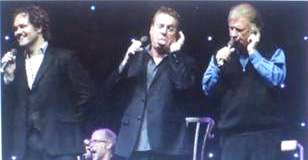 And we had several other entries that came very close...here's a sampling of those, for your amusement (again, in no particular order):
•
"I only stick my tongue out at people I like...really."
•
"You had better NOT call me fat again!"
•
"Sending raspberries to all you skinny minnies. God loves me with a little meat on my bones!"
•
"GRIN AND BEAR IT"
•
"Looks like Mark Lowry woke up on the wrong side of the bed again....Just feed him and he will be right as new again .....!"
•
"This is my most charming photo model smile!"
• "Ohhhhhh! I can't believe I ate the WHOLE thing!"
• "You aren't the boss of me!"

•
HIVE AND SEEK
(a poem)
Oh, here is a story
Of a sweet-toothed bear.
He saw a busy beehive
And stuck his nose in there.

A honey was a drippin' down
His nose and on his tongue.
And out came the bees
And gave his tongue a stung...

Oh, his tongue did swell
To twice the normal size.
The bears big lesson -
"The Hives Are Alive....
With The Sounds of Buzzing"