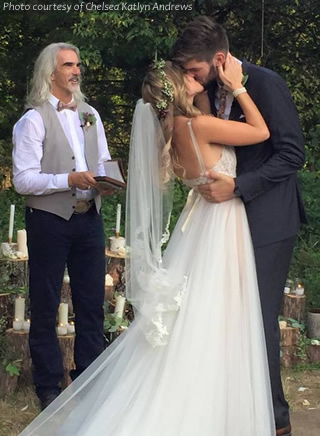 We'd like to offer hearty congratulations to
Tyler Penrod
, who married
Ashley Marie Steffens
this past Sunday! The couple met while they both attended Liberty University, and they announced their engagement in April. They both graduated from Liberty this year, Tyler earning his degree in cinematic arts and Ashley earning hers in cinematic arts and journalism.
Tyler is the oldest of Guy and Angie Penrod's eight children, and the wedding was held at the beautifully rustic setting of the Penrod family farm in Tennessee. Have you ever seen a papa look more proud than Guy does in this photo? Guy and Angie also met while they both attended Liberty, and they just celebrated their 30th wedding anniversary in May.
Of course, we imagine it won't be too long before Tyler's younger siblings will be tying the knot themselves ... and soon, perhaps, the pitter-patter of new little Penrod feet will be heard. With eight kids, Guy and Angie may someday be able to populate a small village with their grandkids alone!