BEAUTY IN THE COMMONPLACE
In the deep of winter the thirst for beauty becomes most acute. It is also the time to stay in and be surrounded with the things that bring peace and comfort—the common things that are natural and personal. Making these things a beautiful and refreshing part of winter décor is not so hard if we pay attention to what is in the yard and use some creativity. Here are a few ideas…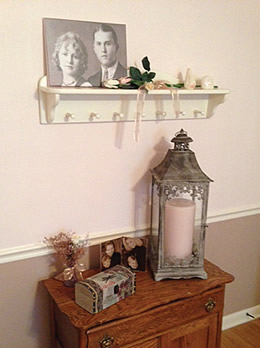 An old family photo can be turned into a lovely canvas (see
canvasworld.com
). This one of my parents when they were first married, a dried rose stem tied with sheer pink ribbon, and a set of shells that belonged to my mother decorate a shelf in the room that was our daughter's when she was home. It is now redecorated to fit an adult daughter when she returns home with her husband.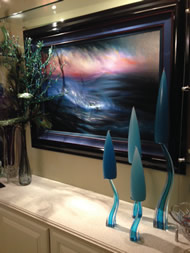 A bouquet of pheasant feathers and some winter sticks covered with peacock-blue glitter and a set of bullet-shaped candles set off a seascape on a dining room sideboard.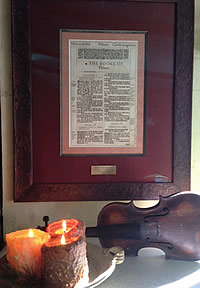 An old violin and a pottery platter, full of bulky vanilla and cinnamon candles, call attention to a valuable framed page from the 1620 King James Bible given at a milestone moment in our family's history.
A small vase full of cedar clippings, enriched as it is in winter with clusters of tiny pine cones, can set off a display of treasured antique books.
Two earthenware bud vases filled with the "whirly-gig" seedpods of last summer's clematis vines are perfect on the shelf of an entryway mirror.
A basket of last summer's hydrangeas, sprayed copper, silver, antique blue and pale pink, can provide a gorgeous backdrop for family photos.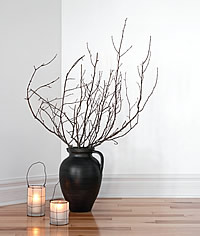 A cork container filled with birch sticks and quills, displayed with branches of bleached driftwood, brightens an empty corner.
A few sprigs of pyracantha berries, a cluster of sticks, a few smooth stones and a little moss create a beautifully natural tableau.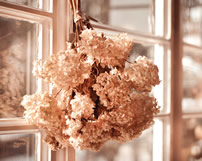 Nature is not just a summer source for beauty. Winter, too, holds treasures to make the seasonal home come alive with extraordinary ordinary things.