When we hear the two words "Christmas décor," we tend to think of urban designs with coordinating floral arrangements, crystal and porcelain bedazzled trees, life-size carolers beside carefully sculpted door-side topiaries and china luminary-lined driveways. And while elegance is a part of the expectation of Christmas, nothing calls us home quite like a "natural" Christmas. the barn.
A drive through the countryside or a gleaning of your own backyard can yield all the materials needed to create a warm and welcoming Christmas.
Try clipping branches from shrubs like pyracantha full of orange berries, or shiny dark green holly. Trim the thorny Washington Hawthorn and cut sprigs from the cedars, white pines, spruces and hemlocks and use them all to fill copper pots, wooden or wicker baskets or pewter pitchers.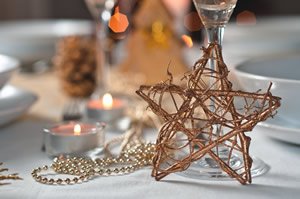 Trimmings from the grape arbor weave beautifully with bittersweet to make wreaths and mantel dressings. Intersperse these vines with evergreen and add polished green and red apples, pears, artichokes or giant pinecones.
Chunky candles safely encased in glass hurricane chimneys bring light and reflection to a table centered with ribbon-threaded pine. Add a few tiny foil-wrapped packages with ribbon and berries or a family heirloom like an antique music box, an oak coffee grinder or a couple of piano rolls or Victrola cylinders.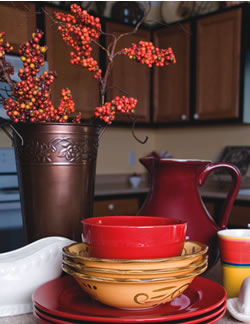 Don't forget to rummage around the attic or basement for unconventional containers: an old straw hat, a wooden churn, an old ice-cream freezer or a small galvanized tub. Anything that comes with good memories attached is fair game for creating a meaningful, natural Chirstmas.