Landy Gardner is one of the great American interior designers whose work has appeared in Veranda, Traditional Home, Better Homes and Gardens and Southern Living as well as other esteemed published collections of outstanding décor and design. His work has encompassed many styles from elegant traditional homes to vacation getaways, urban high-rise residences to mountain lodges. In keeping with the country theme of this issue, Landy has agreed to share a few of his decorating secrets in having this charming cottage décor for one of his clients. Landy and Joy Gardner for years were directors of Christ Church Choir, and Joy has sung with the Speers, the Downings and travels often with the Homecoming artists. We are honored to have Landy as our guest for this issue.
— Gloria
It has always been my philosophy that a home must refl ect the personality and lifestyle of each of my clients. While it is my primary focus to guide the client's choices so that the house maintains continuity and excellence, I want the finished product to feel entirely "theirs." After all, a home is where the most precious memories are made and where we want to go for familiarity and comfort. A beautiful environment is important; an inviting one is essential.
When most of us think of a "country" home, we think of a place that is casual and cozy. For me, the quintessential country house is reminiscent of the English countryside or provincial France. I like the idea that country can still be sophisticated. A person who describes his or her personal style as "country" doesn't necessarily mean they are simple or that they like things that are rustic. It means that they enjoy a place that feels fresh.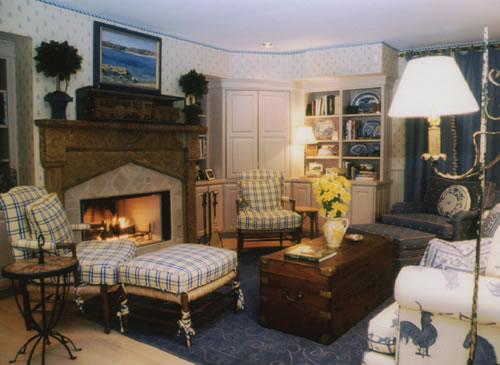 When I began to discuss interior choices with the owner of this charming guest cottage, we decided we wanted it to be a place where guests would want to linger and relax. We avoided anything that felt stuffy and chose fabrics and furniture that were light in texture and color, nothing heavy, no dark colors. We settled on a blue and white theme to showcase a large collection of blue and white porcelain pieces that the client had collected over the years. The blue and white combination felt crisp and airy, but not stark. We also decided that we wanted several of the furniture pieces to be antiques, so that there was a sense that there were stories to accompany the rooms. Where we were able to bring elegance was in the art and accessories we chose. Variety is so important so that the room doesn't feel like a movie set with a country theme. I try to avoid rooms that appear staged as though nothing should be sat on or lived in. The best houses are the ones that bear the marks of having truly been enjoyed. There are brand new items in these rooms, and there are items that have belonged to this family for many years. It was important to them to marry their beloved items with new things. I believe that the most beautiful houses are a journey, not a destination.