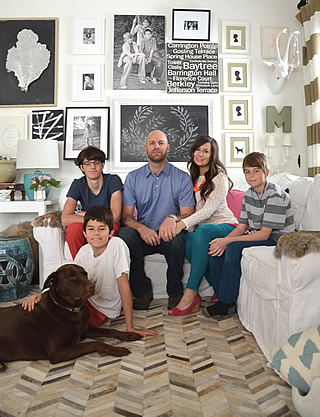 I welcome as my guest contributor to "Welcome Home" this issue a writer/ blogger who knows the challenges of multiple moves, Myquillyn Smith. Like many military wives (and ministry wives, too), she has learned to turn the home she has into the home she loves — good practice for us all! ~ Gloria
We've moved 14 times in our 19 years of marriage. I wish I could say it was because we were a military family because that would seem normal. Let's just say it's what happens when your husband is a visionary and entrepreneur who wants to make you happy by living near family while both of you are willing to try new things, and suddenly you're an expert at packing boxes.
I'm the kind of girl who would have been happy to stay in one place, every year marking our boys' heights on the wall next to the door. As a reluctant nomad I didn't always enjoy tearing down and setting up house again, especially that time when we moved four times in three-and-a-half years. There were some houses and towns that I liked more than others. Some places I'd like to forget.
Then one spring while we were in house number 13, I received a gift from my friend Dee. She's an artist and I asked her to make a custom canvas for me. I wanted something to remind me of all the places we've called home. So she made a piece of art incorporating all the names of the streets, lanes, terraces and roads where we've lived.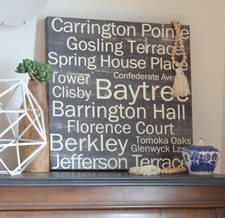 Tears came when I first saw that canvas because I realized that as much as some of those places were hard and some were dearly missed, they were all a part of our story—a story that helped shape and defi ne our family. Displaying that canvas in our home helped me see how fun and exciting our life is. Instead of being embarrassed or mad about how often we moved, I started recognizing how grateful I was for the experience.
Have you considered honoring the places you've come from? I wanted to have some type of beautiful, meaningful, memory-prompting item in our home that reminded us of all the places we've lived, but a state shot glass collection or those tiny spoons with cities on them simply weren't our style. You can have a beautiful reminder of the homes you've had by doing what I did and having a custom canvas made by contacting a local artist or searching on
Etsy.com
.
Or, you can create your own canvas with something as simple as a framed chalkboard from the local home-decorating outlet and chalk or chalk markers. Write all the names of the streets or cities or countries or zip codes of the places your family has called home. If you don't like your handwriting, ask your friend with the beautiful handwriting to write it for you. It's a simple act that serves as both a meaningful work of art, and a reminder of how far you've come.