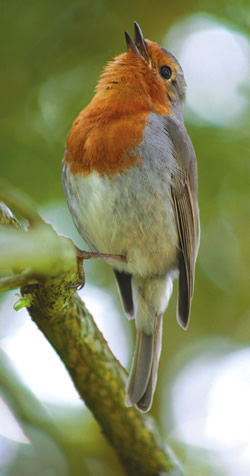 RETURN OF THE SONG
After the long, gray winter there is nothing so welcome as the song and color of the birds. When I was growing up in Michigan, the harbinger of spring (the confirmation that, indeed, spring would return!) was the first sighting of a robin. Someone would dash into the house or call on the phone with the news: "I just saw a robin!" Spring had arrived in spite of what the temperature or the calendar said.
The song of the thrush, the funny song of the bobolink, the cheery morning wake-up call of the wren — all to this day make me want to run down the hillside, clapping my hands for spring!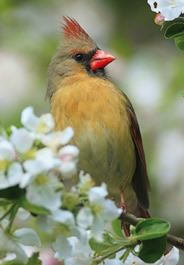 But the most joyful of spring sounds comes from the most extravagantly colored bird — and one of my favorites — the cardinal. Though these flashy birds stay around all winter in Indiana, their song does not. They are silent during the deep freeze of winter, maybe concentrating on surviving. Oh, but when the creek starts to thaw, the cardinals start to sing their unmistakable "whit-cheer, whit-cheer, birdie, birdie, birdie" song at the top of their lungs. (Do cardinals have lungs?)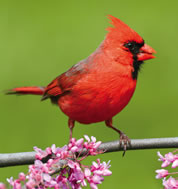 The male-and-female pairs stay together year around, but they often are seen separately in the coldest months. But by the beginning of March, with a song, they come back together to mate and start their nest building.
How spectacular they are against the lime-green tinge of the weeping willow branches! How I love it when they build a nest close enough to the house to allow our family to watch these faithful couples working together to make a place for their soon coming hatchlings.
And if you want to hear God sing, just walk through the woods waking from winter and listen. The strings of your own heart will vibrate to the song of the birds, I promise!