It is up to everyone who lives together as "family" to help set the tone of a home. One person in the family can't do this alone. "Home" should be a place we love to be, the place to which we're eager to return, the place to which others are drawn.
This can't just be cosmetic. A few benevolent slogans on the wall or a picture of Jesus don't necessarily make home a holy place.
Kindness, thoughtfulness, forgiveness, honesty, "preferring one another," joy (good humor and happy communication) — these are more important by far than décor. Good food, calming music, fresh flowers and a clean and orderly place to "be" help, too, to clear the mind of clutter and ease the stress of the day at work or school.
I have always loved Deuteronomy 6 because it is so focused on the teaching of our children, the tone of our homes, the gratitude we should live out in our daily lives for the heritage we've been given.
One of the ways to keep the Lord's commandments in Deuteronomy 6:5-9 is to "write them on the doorframes of your houses and on your gates." In other words, make the entrances and exits of our homes, our rooms, our shared spaces reminders of God's love and provision for us.
Here are a few ways this might be done:
•
Decorate a child's room with an adventurous biblical theme such as:
- The Lion's Den
- The Red Sea Parting
- Noah's Ark
- David and the Shepherds' Hillside
- The Tent Dweller's Room
- The Desert Room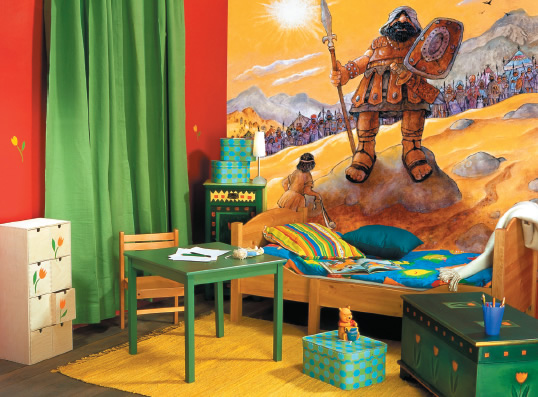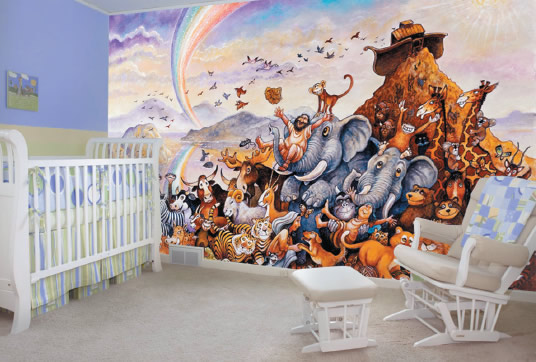 •
Hang a sign over a driveway entrance that is a blessing or benediction...
- Shalom.
- Go with God.
- I thank my Lord upon every remembrance of you.
- Enter these gates with thanksgiving.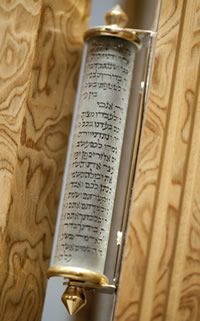 •
Plant a biblical garden using plants mentioned in scripture.
•
Celebrate the "passages" or "doorways" of life with a
family gathering.
- Coming of age (teenager turning 18)
- Birth of a baby
- Wedding party with couples who have been married
10/20/30/40/50 years
- A going-away-to-college party
- A moving–to–a–new–place party
- A new-chapter-of-life party
- A gathering to celebrate a life well lived
Most of all we must relate the scripture to our real lives by just being God's person in the regular, daily circumstances of our lives.
Mural images are by artist Bill Bell and may be purchased at muralsyourway.com.
Additional art by Mr. Bell may be seen at artlicensing.com/artists/bill-bell.