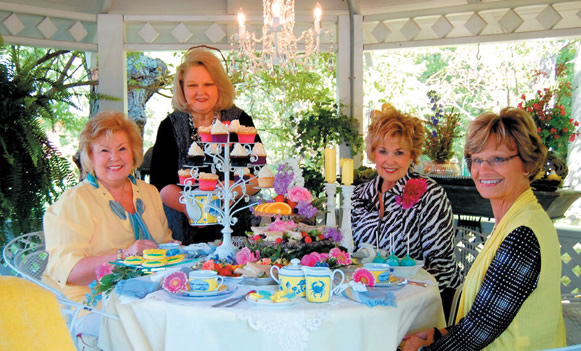 I like to think of the outdoor places around our home as extra rooms that we get to use in the summer: the front porch, the upstairs porch, the playroom deck, the gazebo, the yard under the spread of a wide oak or maple.
Since this issue of Homecoming is all about making life a picnic, I can think of nothing better than to add friends I love to these outdoor spaces for an afternoon tea. Surrounded by the flowers we planted in the spring and the ferns that hang in outside spaces, the gazebo is a perfect setting for a conversation over Earl Grey or (my favorite) Teavana's "Rooibos Tropicana," some finger sandwiches and the delicious cupcakes and cookies from a little shop uptown.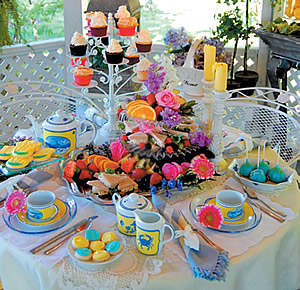 • For a picnic tea, choose your favorite real china, whether the cups are mismatched heirloom sets from your grandparents' collection, cups collected from family trips or your own favorite set. My favorite set is the blue and yellow china with sea motifs that I bought one piece at a time over the years on seaside vacations. China and lace, linen and chintz say to the ones you invite how much you treasure their friendship. Clip a few roses or daisies from your own gardens, add a lantern or two, and before you know it, everyone will feel so comfortable the stories and laughter will soon follow.
• Of course, no occasion is complete without music. Our precious daughter-in-law gave me the tiniest little round ball, which I soon found to be a pair of speakers that plug into my phone or iPod, just perfect for setting on a tea table for soft music.

• Whatever the occasion for a picnic this summer, the blessing of friends and family is the most important reason to celebrate in God's beautiful creation. Whether you find yourself in the woods, by the water, or in your own backyard, shared meals, like the moments of life itself, are what you make them. Fix the food, and then add the joy!