In looking back over the last decade of "Welcome Home," I discovered how many times the two tables in our well-worn house have appeared. I guess it stands to reason that the place where family and friends come to eat together would emerge as a center of "home" and its welcome.
In every season the table is where special holidays are celebrated. At the end of every workday and workweek, it is the food and fellowship that brings us home. Christmas parties, Thanksgiving dinners, intimate Valentine desserts, Passover and Easter rituals, summer birthday parties, graduation gatherings — great memories of all kinds — are honored around the table.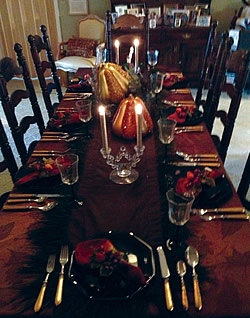 Both the kitchen table and the dining room table at our house seat 10. We chose big tables because we wanted to always be able to "set another place." The tables are also often spread with poster paints, family puzzles, writing projects and crafts.
The tablecloths, runners and centerpieces chronicle the changing of the seasons. Sometimes grand-kids are making valentines, coloring Easter eggs,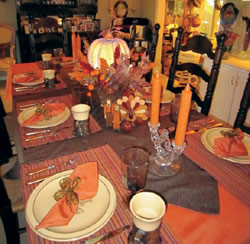 stringing cranberries and popcorn or playing dominoes on the table.
But through the seasons and the years, this old table is a magnet for good times and lively conversations over good food!