All the decorations are put away from the Christmas season, the tree is stored in the attic and the mantles are all stripped and clean. This is the perfect time to start fresh. There is no better way to make a house feel clean and new than to strip away the things that have accumulated during fall and Christmas and start with clean, bare surfaces on tables, countertops, and bookcases. (I even like to take things off the walls and rearrange pictures.)
Take a clue from nature and consider using white: white candles in the holders, white tablecloths and placemats, even a new set of white sheets and a white bedspread. If you've been considering a fresh coat of paint somewhere — kitchen, bath, bedroom — white might be a good choice. White is to the house what a deep intake of fresh air is to the lungs!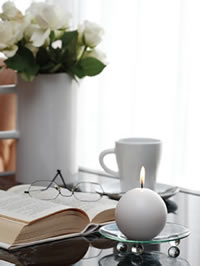 During the January "white sale" is a great time to replace stained bath towels and dish towels with pure white ones. (They can be bleached!)
By mid-January in Indiana there is a beautiful white covering of snow to be seen from every window, so bringing white indoors gives everything a fresh start.
After the simple white transformation, use color to accent the clean fresh look: an arrangement of pink, orange or yellow lilies in a silver vase, or a bright amaryllis now in bloom from the bulbs so available during the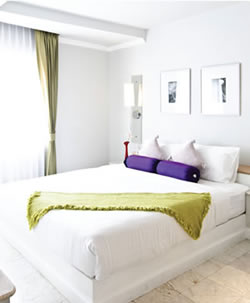 Christmas season. Maybe a wooden bowl on the white table full of bright green Granny Smith apples or an arrangement of small birdhouses on the kitchen island on a white runner or napkin to remind you that spring is on its way...eventually.
Whatever you choose for accents to the clean white backdrop, keep it simple and sparse to give light and air to the dark months of January and February.
Soon you can add pink and red for Valentine's Day! White will give punch to anything you choose to put with it, accenting the simplest object or arrangement.