Sheri Easter is inspired by
Leonard Sweet
's newest book: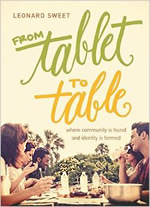 From Tablet To Table: Where Community is Found and Identity is Formed
When I was asked to write a review for Leonard Sweet's latest book, I was thrilled for the opportunity because I had heard him speak at last year's Family Fest and for our family, it was life changing. Imagine my surprise, when I received the book and it was based on the sermon I had heard. Sweet mentions in the acknowledgements that prior to writing the book, he had only spoken on this message twice before, once in Seattle and once at Family Fest for Bill and Gloria, to whom the book is dedicated.
I'll never forget sitting in that audience when he spoke about this generation not having a "place" at the table and how preceding generations could show you their "place." My mind wandered home and I could see my daddy at the head, my mama to his right, my little brother and then me. I knew my place. I began to cry because I realized that in our home, although we are together as a family four to five days a week on the bus, and we've eaten most every meal together since the kids were little, we hadn't chosen our "place" at our dining-room table.
Because we all heard the message, we couldn't wait to get home for our first meal. Jeff was at the head, I sat across from him, and then our children began to choose their seats, starting with our firstborn and moving right down to the baby. We haven't forgotten that — we now have our place!
Sweet explains that we need community and gathering in order to form our own identities — and the table is a place where our identities are born. Too many people are searching today hoping to discover who they truly are. They don't realize their value. Without a place, we begin to form our identities in other things rather than who we are in Christ. The table is where we share our stories, person to person, generation to generation and we learn "who we are, where we come from, what we can be, to whom we belong and to what we are called." It is where we "feed ourselves while feeding each other."
I am so grateful for this message and the effect it has had on our lives as a family and I shout along with Mr. Sweet when he commands, "Bring back the table!"