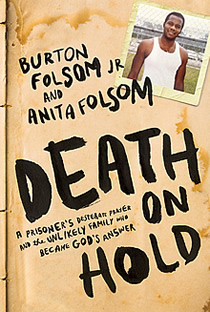 Death On Hold:
A Prisoner's Desperate Prayer and the Unlikely Family who Became God's Answer
by BURTON FOLSOM JR. & ANITA FOLSOM
A story of both tragedy and triumph,
Death On Hold
, by New York Times bestselling authors Anita Folsom and Burton Folsom Jr., takes us on a rare journey inside the walls of death row in the small town of Holman, Alabama. But this tale isn't just about what happens inside a maximum security prison — it's much bigger than that. It's about an unusual friendship between two writers and one less fortunate inmate.
Mitchell Rutledge was born to a 13-year-old mother and a father he never knew. He was taken in by a single mother, who raised him in a city inundated with drugs, prostitution and poverty. He became a thief, a drug dealer, and eventually, a murderer who was on death row by the time he was just 21 years old.
As he sat incarcerated for what looked like the rest of his life, Mitchell would often pray for God to send him a friend. Little did he know, in January of 1983, a man named Burt Folsom would read a Time magazine article about a convict with an IQ of 84. The writer of the article left the reader with two words: "Forget him"... "him" being Mitchell Rutledge. But Burt couldn't forget him. He started writing letters to Mitchell and found him to be much more intelligent than the journalist depicted. With the help of Burt and his wife Anita, Mitchell soon learned how to read and write, but more importantly, they formed an extraordinary bond that would lead to an unexpected culmination.
This story of redemption, although with different "characters," is one that I know very well. There were times in my own life that it would've been easy for some to say "forget him" about me and yet the story didn't end there. Like He did for Mitchell, God saw fit to send people to walk with me through the darkest times of my life, encouraging me every step of the way. Our stories may be vastly different in some ways, but once you have seen it at work in your own life, there is no mistaking that same grace and faithfulness.
I don't want to give away the ending, but the title says it all. When God intervenes, there is no prison, whether built by circumstances or steel, that can separate us from His unfailing mercy and love.