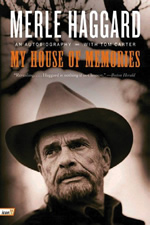 JOHN BOWMAN
I just finished Merle Haggard's autobiography,
My House of Memories
. It was really interesting and eye opening. He is definitely one of the greatest country singers of all time and I enjoyed it very much.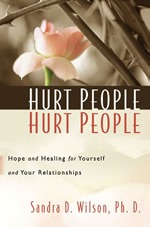 AMBER THOMPSON
Recently I've been reading a book called
Hurt People Hurt People
by Sandra Wilson. I just graduated college with a bachelor's degree in counseling and so I'm constantly studying how people think and why they act that way and what caused it. The book talks about exactly what the title says. If someone is hurting on the inside it's why they hurt someone else. And what better time of year, then, to spread joy and love that only Jesus Christ can give us at Christmastime.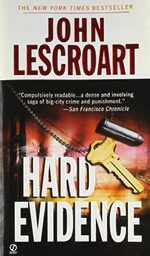 JANET PASCHAL
I am reading a courtroom drama by John Lescroart,
Hard Evidence
. Lescroart writes a legal series starring a cop-turnedprosecutor- turned-defense-attorney, Dismas Hardy. While not for the faint of heart, his writing is terrific and the endings are always surprising!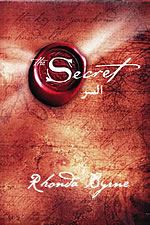 SHERI EASTER
I'm re-reading
The Secret
by Rhonda Byrne, a wonderful book about putting the laws of attraction into place in your life. I've always been an optimist and very blessed. I love the way this "scientific principle" relates to "ask and you shall receive."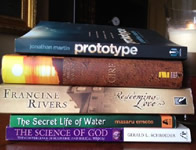 On REBA RAMBO-MCGUIRE's Nightstand...
As usual, I'm never reading just one book. This is the stack by my bed from the treasury of new and old. There's no better gift than a good book!
•
Prototype
by Jonathan Martin. What happens when you are more like Jesus than you think? What if we too are truly His Beloved? A must read for every believer!
•
Moments with the Savior
by Ken Gire. This passionate devotional combines 20 new meditations with four of his complete well-known masterpieces on the life of Christ.
•
Redeeming Love
by Francine Rivers. A powerful modern-day rendition of the forgiveness and unconditional love patterned in the book of Hosea. I read this classic novel at least once a year and cry like a baby.
•
The Secret Life of Water
by Masaru Emoto. This fascinating study of water's remarkable journey through our planet helps us see ourselves and our universe differently.
•
The Science of God
by Gerald L. Schroeder. Schroeder offers fresh evidence for the eternal argument that science and religion, matter and spirit, need not be seen as conflicting or mutually exclusive.