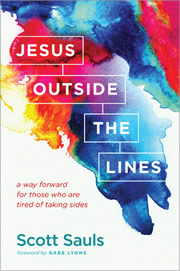 Jesus Outside the Lines
A Way Forward for Those Who Are Tired of Taking Sides
BY SCOTT SAULS
This book is written by a regular guy who is also a scholar and a thinker. Most of all, he's a lover of Jesus … and people, I know that because Scott Sauls is my pastor. Being one of his congregants is not the reason I'm recommending the book, however; it's that it has a profound message that could change the way we live our lives.
At a time in history when Christians are perceived as argumentative, hard-headed and inflexible, Scott Sauls dares suggest that all this
brouhaha
is not at all what Jesus taught and lived. He offers a new perspective on Christian living, a new paradigm if you will, that will change us into the kinds of persons that will draw others to the Savior.
"There was something about Jesus that people wanted, that they knew they needed," Scott says. "Jesus recognized God's divine imprint in all of us, and offered honor and dignity not just to those who believed … but to those who walked away as well." Case in point: the rich ruler who walked away from Jesus' invitation to follow him. This is a microcosm of truth I had missed. Scripture says that Jesus looked at him and was generous and the rich ruler walked away not feeling judged or put in his place. (I hate to say it, but had it been one of us, we might have hit him over the head with our Bibles and body wrestled him to church!)
Never for a minute does Sauls back down from the Gospel of Jesus, or the truths of Scripture. Never for a minute is he asking us to minimize our core beliefs. Never for a minute does he negate upholding the tenets of the faith, nor does he suggest compromise when it comes to right and wrong. In fact, just the opposite. He simply reminds us of Jesus' example, asks us to observe how he treated his fellow citizens. He encourages us to run a personal diagnostic of our heart, and then emerge as a new kind of Christian; one who is so encouraging of our fellow man, that they can't help but be drawn into — loved into — the Kingdom of God.
I must admit, I came to a place in the book where I didn't agree. I threw it at the wall, stomped around, made big signs to picket the church! Then I realized that's what this book is about. About graciously accepting our differences, in both word, tone of voice, and body language … and NOT having to prove your point.