Homecoming Friends share a little about what books
they are reading these days...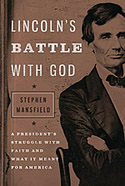 Bill Gaither
In the book
Lincoln's Battle With God
, Stephen Mansfield offers a fascinating and insightful look into Lincoln's human and spiritual struggles — including his well-documented battle with depression and the questions that undoubtedly surface in the face of the loss and human tragedy which he witnessed. The book reinforced what I have believed for years — that genuine questions can and do lead to authentic, honest faith. I really enjoyed the book.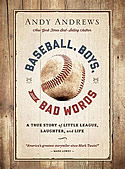 Jeff & Sheri Easter
I'm in the middle of
Traveling Mercies
by Anne Lamott. It was on a recommended reading list that Gloria published many years ago and I've just gotten around to reading it. Jeff's not much of a reader, but he LOVES Andy Andrews, so whenever I get a new book by him, I always read the highlights to him. This Monday, I opened my mailbox to find Andy's newest,
Baseball, Boys and Bad Words
. As soon as I started reading it, I went out to find Jeff. He was working in the yard and I found a nearby chair and read the entire book to him, laughing so hysterically, I could barely catch my breath! We loved it!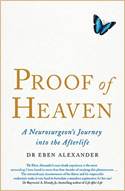 Ivan Parker
I'm currently reading
Proof of Heaven
by Eben Alexander, M.D. The journey of this physician through his account of the afterlife is different than any other I have read.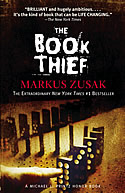 Allison Speer
I spent a day with a bright high-school senior who told me that her required reading for English Literature was a book called
The Book Thief
by Markus Zusak. It has been 30 years since I graduated from high school, so I thought I would catch up on what is being read by teens. I love this book! It is a story about a young orphan girl learning to read and survive in Germany during Hitler's evil reign; but it is written from the perspective of "Death." It is a lovely, poetic work that promotes imagination and thought. It's a brilliant book that I highly recommend for teens and adults.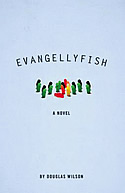 Sherryl Ford
I'm reading
Evangellyfish
, a novel by Douglas Wilson. Unbelievable. I couldn't put it down. I laughed my head off. I was embarrassed. It broke my heart. Holy smoke! Is this us?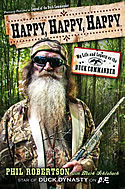 Sue Dodge
I am reading
Happy Happy Happy
by Phil Robertson aka "The Duck Commander." I am intrigued with "Duck Dynasty!" This book is about faith, family and ducks and as the author says, "in that order has changed life forever." Very positive message! From what I think is a very positive family show on TV that sends a strong message to a very mixed-up society.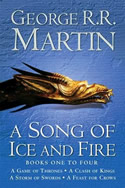 Madison Easter
I've just started the
A Song of Ice and Fire
series by George R.R. Martin, of which the television show "Game Of Thrones" is based. I love the show and I love fantasy fiction, so my world is filled with White Walkers and Dragons at the moment.