A Day in the Life on the Homecoming Tour
Saturday, 2:00 a.m.
An hour ago, 11 artists' buses departed the Friday night Homecoming Concert. The production trucks, merchandise truck and Homecoming production crew bus embark upon the 400-mile trek to the next tour stop. Bill Gaither is sound asleep in his bus as it rolls along I-40.
6:00 a.m.
Artists' buses roll into the arena parking lot (except those who stopped at the mall — female artists must be accommodated, especially those riding with Jeff Easter). Bill is still sound asleep.
8:00 a.m.
Trucks roll into the parking lot. Jim Hiatt coordinates bus and truck parking with an arena security representative. Jim, "The Parking President," accepted the job because no one else would. Jay Jarvis, Bill's driver, polishes and shines the bus. Bill remains sound asleep.
8:30 a.m.
Production Manager Jim Hammond, Tour Director Sue Silverstein and Artists' Road Manager Deana Surles meet local representatives as Bill rolls over in his bed.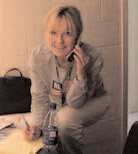 (Pictured right: How does she do it all? Not only can Janet Paschal sing, she can also talk on her cell phone, write down notes, read a book and pose for a photo — all at the same time.)
9:00 a.m.
Load-in begins for merchandise and production crews. Gloria and Janet Paschal converse over coffee in the front lounge of the bus, discussing highly intellectual topics that only a few others on the tour would even attempt to grasp. They speak quietly, of course, so Bill (still asleep) will not be disturbed.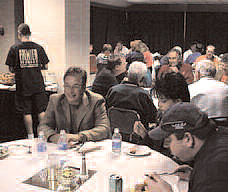 11:30 a.m.
Lunch time. The smell of food miraculously makes its way to the artists' buses. A few rise to the occasion and amble to catering. Obviously, Bill isn't among them; however, one leg has emerged from under the covers, and he has requested a Starbucks' Mocha.
12:00 p.m.
Drivers retire for their day of rest. Crew members trickle into catering. More artists are among the living, but not Bill. His leg has again disappeared under the comforter, and he's fallen back to sleep. Obviously, he has forgotten about his Mocha.
2:00 p.m.
Final preparations are made to audio, lighting and video set-up. Reggie Smith, Taylor Mason, David Phelps, Lynda Randle and other fitness gurus work out on Total Gym. Where were they when merchandise and production gear was being brought in?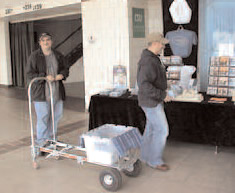 2:30 p.m.
Jeff and Sheri arrive at the venue. "Where's my [merchandise] table?" Jeff asks. "Sheri bought a new dress. I have to sell a lot of product tonight." Bill finally makes his way to the front of the bus in search of food. Unfortunately, lunch catering has been removed. Fortunately, dinner will be served in an hour; just enough time for a walk and shower. Russ Taff, David Phelps, Jeff Easter, Claude and Dean Hopper join Bill to walk laps around the concourse.
(Pictured left: Josh Easter and Ben Garcia put the finishing touches on one of the product set-ups.)
3:00 p.m.
Kevin Williams tunes his guitar, while Mike Hopper sets up the drums. Anthony Burger sits at the piano. Sounds of the Chris Rice tune "Smellin' Coffee" can be heard throughout the arena as technicians make final "tweaks" to the sound. The song reminds Bill that he never did get that Mocha.
3:30 p.m.
Dinner is served. The majority of artists and crew gather. Nothin' like good food to bring the Homecoming family close.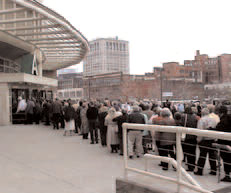 4:00 p.m.
Lines begin to form at the entrances, as concert attendees arrive early. Volunteers who have graciously agreed to assist with selling merchandise at various artists' tables have arrived and are being given instructions. Bill finishes dinner and chats with Jake Hess, Ivan Parker and Guy Penrod. Sheri Easter comes in to share secrets of bargain shopping with Ladye Love Smith, Kim Hopper and Janet Paschal.
(Pictured right: Early arrivers line up awaiting for doors to open before the concert.)
4:30 p.m.
The doors open for concertgoers. Reggie and Ladye debate which outfits to wear as their volunteers patiently wait for instructions at their merchandise table. Meanwhile, Bill decides he has time for a quick nap before the concert.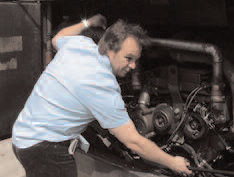 5:30 p.m.
Bill and Ben Speer go over the list of artists, creating the order of the program. Of course, everyone on the Homecoming tour knows to be ready at a moment's notice. Meanwhile, Jeff Easter (Mr. Fix-it) changes a belt on Lynda Randle's bus
(pictured left)
.
5:45 p.m.
Kevin Williams shares a few musical tunes on stage.
6:00 p.m.
Bill heads to the stage, microphone in hand, as the familiar intro of "Old Friends" rolls.
7:00 p.m.
The sounds of one Homecoming artist after another permeate through the 18,000-seat arena, as a near-capacity crowd enjoys Homecoming musical delight. Oh, and let's not forget the fun of Taylor Mason and Paco the Pig.
8:00 p.m.
Bill has now been onstage two hours. The excitement builds as Vestal Goodman exclaims, "Make welcome, Bill, Guy, Russ and David, The Gaither Vocal Band." A roar of applause and screams of excitement fill the arena as "I'm gonna sing just as long as it takes for a song to make sad, heavy spirits free..." rings in perfect, four-part harmony.
8:45 p.m.
Intermission. Lines to the restrooms lengthen, as well as lines to the artists' merchandise tables. Several artists make their way to their tables, while others catch a moment of relaxation in the "Green Room." Bill takes a much-needed restroom break, then heads to the "Green Room" for yogurt and chicken wings.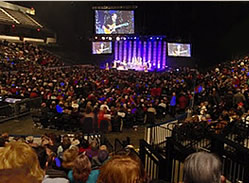 9:00 p.m.
The second half begins with all artists onstage.
10:15 p.m.
The concert concludes. Bill and Vestal make their way to the "Green Room" for the "After Show Meet & Greet," where radio station and Gaithernet contest winners visit. Guy Penrod and Russ Taff sign autographs stage-side, while other artists make their way to their merchandise tables.
10:30 p.m.
Lighting trusses and sound clusters are lowered, while artist's merchandise set-ups are torn down. Fans make their way to crowded parking lots, as Bill stops by each artist's bus. He says he likes to visit with everyone to reflect on the evening; however, those who know him best know he's just in search of food (usually the Goodman bus has the best!).
Sunday, 1:00 a.m.
Having loaded all the remaining merchandise, the artists depart, some to their Sunday concert, others for home. The final production truck is loaded, and another Homecoming concert is complete. As his bus makes its way to Alexandria, Ind., Bill is sound asleep, resting in the satisfaction of a job well done.