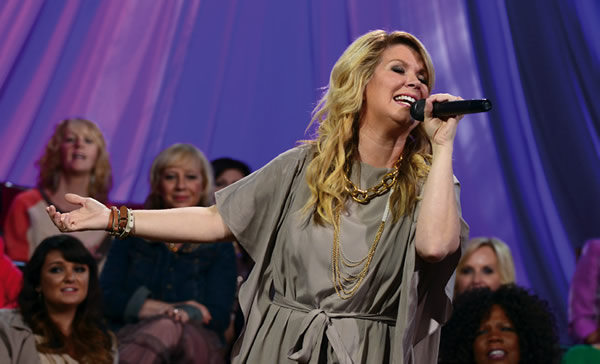 Natalie Grant may just be one of the greatest vocalists to grace the stage, but to this Grammy nominated, five-time Dove Award winning Female Artist of the Year, being a wife and a mother is her greatest calling.
As a working mom, Grant says her greatest desire is to let her kids see a woman who never shied away from who God made her to be, who He designed her to be or who He equipped her to be — which is why she was thrilled to be a part of the
Women of Homecoming
taping.
When a video is recorded, and after all the editing is done, the finished product is seamless and elegant. So you would never know there was a glitch during the taping of Natalie's segment. As she started to sing "Your Great Name," her track was playing at about half speed and she quickly realized it would be best to start over. So she asked her husband, the talented Bernie Herms, to step out from the audience and accompany her.
When Bernie sat at the piano and began to play the first notes, a hush came over the room and as Natalie began to sing "Lost are saved, find their way, at the sound of Your great name..." we all began to worship.
October will bring her latest release,
Hurricane
, which Natalie describes as "full of music that is positive and bright, both musically and lyrically." She's written many of the songs on this new project and says, "Through writing these songs, I've been reminded that hope always wins."
One of those songs is "Burn Bright," which she wrote for her nephew, who fought an addiction to drugs. She calls it a letter to him and says, "It was written to remind him that although our circumstances may currently describe us, they don't define us. We were made for more."
Surrounded by many of her musical heroes that same day, Natalie remembered her 6-year-old self lying on the floor in front of a record player listening to Sandi Patty sing, "We Shall Behold Him." And, although she was too young to articulate why, it made her cry. "That was the first time I realized a song can move your heart so deeply," she says. "It can make you weep." That moment was a catalyst in her life that has led her to choose heart-gripping songs like "Held" and "Alive" which have made her a top-selling artist.
And while the audience of
Homecoming
women listened in awe to Natalie's beautiful voice and powerful words, for Natalie, the highlight of the event was "being with strong women of God, who embody and encompass the godly woman."