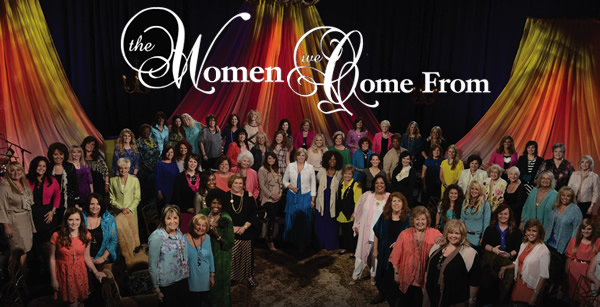 Gloria Gaither
Sometime in the '90s I came across a book called Girls with Grandmother Faces, encouraging women to stay connected, curious and active after being widowed, having the kids leave home, or transitioning from the busy career years. It was an interesting book, but it is the title I most remember because when my closest friends first entered my life, we all sort of still considered ourselves "girls." We were young women with little children; most of us had college degrees, and were married to men with more entrepreneurial ideas than anyone could ever realize in a lifetime. We, too, had dreams — some of which we shared with those creative men and some we discussed and shared only with each other.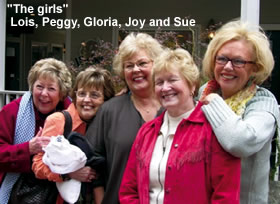 Over the years we have shared laughter, pain, secrets, disappointments, betrayals, the death of spouses, and some great vacations with our families in tow. We have prayed each other's kids through gains and losses, tragedies and triumphs. We have walked with Sue through breast cancer and the death of her precious redheaded, creative daughter to the same disease that Sue survived. We held on to each other when Peggy's Bob, Lois' Fred, and Joy's Robert slipped from our grasp into eternity. We cried together when Peggy lost her handsome, outdoorsy son and when Sue's beautiful Mindy was gone for a decade and we didn't know if she would ever be found. She was! And we all treasure every precious minute with her now.
We've traveled together, speaking for "Friends Through Thick & Thin" weekends, and spent many an hour on each other's porches talking about whichever one of us happened to not be present. All of our daughters at one time or another have said to us, "I hope I can find friends that are as fun and as interesting and loyal as your friends are!"
Now we all have "grandmother faces," but we are still the same "girls" we've always been—only better. Better because we've known and loved each other through more than four decades and are now the keepers of each other's memories. We all know that this well-earned trust will become more important than ever in the coming days, for there is a good chance we will be losing some memory of our own. But when we do, we will meet each other in the music and sing the sweet old story of Jesus that we have loved so long.
Lillie Knauls
Oh my, what a wonderful day that was — being there with my "sisters." There were so many precious moments when the Holy Spirit hovered over us in that room, letting us know we were on holy ground.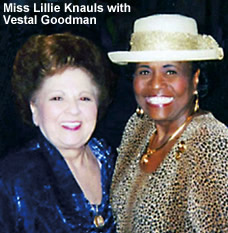 I so missed having my dear friend Vestal Goodman there with us. I am certain there were many other ladies who felt about her as I did. I shall never forget the day I met this grand lady of gospel music. It was the first time I came to a Gaither Homecoming taping, back in 1993. I was apprehensive, not knowing what to expect, wondering if my choice to wear a hat was a good one. I had simply asked myself what hairstyle would look weird in 20 to 30 years and decided I would just wear a hat! It turned out to be a good choice. Now wherever I go, I am referred to as the "hat lady!"
One day, I had the opportunity to meet Miss Vestal at her favorite restaurant for lunch. I was so delighted to have one-on-one time with this precious lady. She was so down to earth. We talked about God. And singing. And life. But for the next bit of advice she gave me, I will be forever grateful. She reached over across the table, put her hand on mine and said, "Listen Lillie, don't ever quit singing no matter how old you live to be. If people still want you to come sing, you go girl! They are asking because they know you have an anointing. And even if you feel your voice is not what it once was — keep going! Look at me and promise me you will!" I was so moved — and with tears in my eyes I promised her. Now, at age 75, I am very busy, still traveling, still singing and speaking for Jesus. I plan to do as Miss Vestal advised — never retire! I'll just move to my new home in Glory and remove my hat as I receive my crown!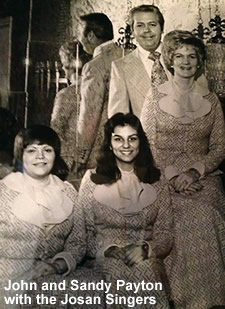 Kelly Nelon Clark
Few people know that at age 14, I sang with a group called John and Sandy Payton and the Josan Singers. Sandy Payton was a true role model and just what this 14-year-old needed. What a great example of a Christian woman. I watched as she lived what she sang. She loved me as if I were her own child. She prayed with me and taught me the ways of the Lord. She and her husband John were my adoptive parents. John even taught me to drive, using the motorhome we rode in. I'm sure that increased their prayer life, too! Sandy pushed me to do and be more than I ever thought I would or could. Speaking on a platform was not something I had ever done before, but if you were in that group, it was a must to give your testimony. So I did. I don't recall what I said, but I do remember shaking like a leaf. I owe so much to them for the nurturing and love they gave to me unconditionally! When most of my teenage friends were doing things that led to trouble, because of Sandy and John Payton, I was traveling on the weekends from church to church sharing God's love.
Babbie Mason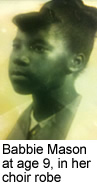 When I think of women who have helped to shape my life, I immediately think of my mother, Georgie Wade. My mother epitomizes the beautiful, gracious and industrious woman spoken of in Proverbs 31. She was born in the Old South when times were extremely difficult for black people. Mom and Dad were dedicated to each other and the dreams they shared. They moved from Mississippi to Michigan after Dad came home from serving in the army in WWII. They were married for 45 years and raised five brilliant children before Dad graduated to Heaven. For 40 of those years, Mom served as the pastor's wife alongside Dad in the church he started, so she has never been afraid of hard work. She knows the power of prayer; she has always walked by faith and trusted in God. As a child, I remember my mother singing hymns and songs of the church while she cooked dinner or got ready for church. There was something tremendously comforting about hearing my mother's melodious voice wafting above the hum of the vacuum cleaner at home or singing the church happy when she would lead out in the church choir. Even in her golden years, she is still the best singer in our family. Her singing voice and her love for music will always be my greatest inspiration. She made sure I had formal music training and insisted that I play for my preacher-dad's church. I was hired at age 9 and played every Sunday for 18 years!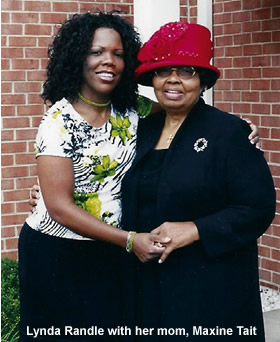 Lynda Randle
Of course my mother, Maxine Tait, helped to inspire me in many ways, but the one thing she gave me (besides the gift of Jesus) was a great work ethic. My mom worked so hard in our home and outside of our home. She didn't "half do" anything. Her word was "perfection" and while I know as an adult woman that only God is perfect, I strive for excellence in everything that I do and attempt to do! Thanks, Mom!
Debra Talley
The woman who has most influenced my life is my mother. She is a quiet, humble, unassuming woman, but in my life, has been a gentle, caring woman of virtue and unwavering commitment and faith. She has been the church pianist at the same church for 63 years, having recently retired from the full-time position. One of my fondest memories is of her praying very early in the morning outside my bedroom door. She would get up before daylight, cook a full breakfast, wake us kids, and still have time to pray for each of us before she had to be at work by 7 a.m. I am blessed to have had such a godly influence in my life. My mom, at only four foot eleven and a half, is a small lady of faith, but she's a giant to me.
Sheri Easter
Last month, my aunt showed me a photo of my grandma and great-grandma taken in 1916. I barely remember Big Mama, as she passed away when I was very young, but I do remember her hair was gray, her skin was wrinkled, her back was slightly bent, she was anything but "big," and she spent most of her days in a recliner, covered with blankets and such.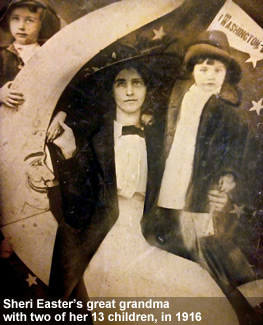 This was certainly not the woman in this photo. This beautiful lady looked as if she'd just had dinner with the Vanderbilts, Rockefellers or Roosevelts, dressed in her perfectly pleated, ivory blouse with a black bow at the neck. Her long, flowing skirt and tailored black jacket matched the large, widebrimmed, feathered hat and leather handbag. Her daughters (my grandma and my great aunt) were dressed equally elegantly with matching coats and hats, ivory dresses, and dainty, gold charmed necklaces.
For most of the day, I stared into her stunningly beautiful face, searching her eyes and looking for something — the same way I've done in the past with my daddy's mama, with her beautiful olive Cherokee skin; the same way I've looked into the face of my beautiful mama wanting to know how someone could simply smile and make everyone's hurts dissipate. I thought of my grandma as this 6-year-old girl in the photo and the hard times she later faced through the Great Depression and as she buried her 4-year-old son, and I wondered how through it all, she still got down on her knees every night in prayer until she passed away at the age of 92. I found myself reaching for clues about who I am because of the blood flowing through my veins.
I am a product of generations of women who loved God, women who loved their husbands and committed their lives to them. I am a woman who comes from a long line of child-bearers who held their babies, loved them, and grieved when they felt pain. I am a woman who isn't afraid to work because my mama, grandma and my great-grandma were all diligent in using their hands to stay busy caring for their families. They worked in the kitchen preparing meals, used a needle and thread to repair or create clothing, worked in the fields picking corn, butter beans, cotton — whatever it took to get by — and folded hands in prayer in gratitude for God's daily blessings. I am a woman who knows that deep-rooted joy isn't based on circumstances and that laughter is truly a healing medicine.
I am grateful for the women before me and pray every day that my girls will feel this same pride every time they speak of me.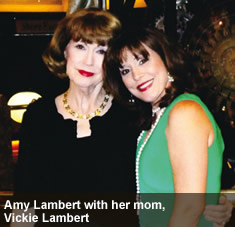 Amy Lambert
I would have to say without a doubt that my mom, Vickie Lambert, has been the woman who has most influenced my life. She was the one who first took me to church and introduced me to gospel music. She has always been my greatest source of strength and inspiration. She taught me how to sing. When I was just a kid, my mom resigned her position as church pianist to form a trio with me, and we started traveling on weekends. When I was 9 years old, she knelt beside me at an altar and introduced me to Jesus. She was also the person who would not let me hide away after I had been involved in a serious car accident that altered the appearance of my face. She made me get back up in front of people and told me not to be ashamed of my scars. She was there with me through all the reconstructive surgeries encouraging me, and telling me that I was still beautiful and special. There have been many times when I have wanted to give up and just quit, but she has always been there to encourage me to keep going. She is my greatest fan and cheerleader and she never fails to tell how proud she is of me. She is my best friend!
Melissa Brady
I was incredibly honored to be a part of the taping, but it became even more special when Bill asked me to sing "Amazing Grace." You see, my grandma was in her 60s when she was diagnosed with lung cancer and she was not a Christian. Although we'd spent years trying to tell Grandma about Jesus, she just felt no need for Him in her life. As she faced this awful, terminal illness, tears and prayers were a daily occurrence in my life. Knowing God wouldn't make her choose Him, I began to pray that He wouldn't let her go until she did.
It was months before I found out that our friend, Mrs. Jones, would go to visit my grandma every Saturday and that at the end of each visit, she would sing "Amazing Grace." One Saturday, when Mrs. Jones sang the last line, my grandma turned to her and said, "I'm ready." Mrs. Jones was a bit confused and said, "For what?" Grandma said, "To be saved. You can tell me how to be saved now." Then Mrs. Jones introduced my grandma to Jesus!
I'm grateful for Mrs. Jones and her faithfulness to visit my grandmother and I'm so thankful that the song Bill chose for me to sing was "Amazing Grace." It was a sweet moment for me to sing it and remember my precious grandma, who has now met the Giver of amazing grace face to face!
Bonnie Keen
I come from a long line of very strong women of faith. There are pros and cons to having this inheritance. Over the years I've come to appreciate the tenacity of my foremothers and the way they lived life through the lens of courage in Christ. Their courage manifested itself harshly at times but always with a grounding force of love forming each decision.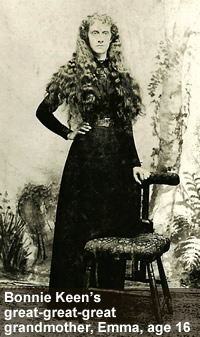 My momma is still alive and more vibrant and active at 82 than most people I know half her age. She's attended the same church for almost 60 years. They treat her like royalty and it's well deserved. I was named after her mother, Bonde Louise, as a sort of "please love me" peace offering between them. My grandmother loved with a fierce affection. Her faith in God was extremely passionate. Her personality can be summed up in her choice to write her own version of the Bible — in long hand — and to have it bound and handed out for the family to keep so we wouldn't forget her.
Favorite in the line of these women and someone I feel shaped me by the sheer tenacity of her survival is my great-great-great-grandmother, Emma. She was a baby when her momma took her to the shipping dock to say goodbye to her daddy. He was traveling from Ireland to America to make a place for the family and would return to bring them after he was settled. As her mom was saying goodbye, the ship left port taking along an unprepared mother with my great-great-great grandmother in her arms. How they survived the trip across the ocean and subsequent days ahead are testament to their faith in God's provision and His grand sense of humor.
Her picture fascinates me. At age 16, she stares full force at the camera, flaming red hair to her waist with one hand on her hip as if to say, "And your question would be?"
The stories about the generations of faith-filled women fill conversations around our family table. Having survived my own set of unexpected journeys across rocky waves, I tend to feel a certain kindred spirit with the woman whose trust in God weathered many an unforeseen path.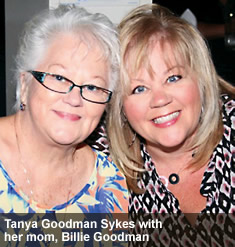 Tanya Goodman Sykes
I'd have to say the woman who has molded and challenged me the most is my mom, Billie. She is a portrait of love, selflessness and steadfast faith. She was essentially a "single mom," while my dad was on the road, week after week touring, and she never complained about it. I often tease my mom by telling her she sets the bar so high that she's making it rough on me. My daughters adore her! She encourages me, but she's also not afraid to say the things that are difficult, but need to be said. She has mentored, and still does mentor, countless younger women, and she is everyone's "Mimi."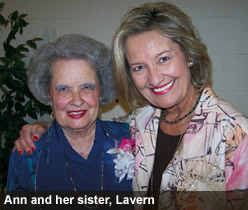 Ann Downing
My only sister, Lavern, is 12 years older than I am. She calls me her oldest daughter and I refer to her as my second mama. What's so prevalent in my mind in thinking of the role she's played in my life is how consistent she's been in being supportive of me and of what I do. She doesn't sing at all and hasn't touched piano keys in probably 60 years, yet she's made sure I had all the opportunities in the world to do this music and speaking ministry. There's not a selfish bone in her body — it's all about "What can I do for you in this, Ann?"
We were recently vacationing a bit at our family farm in North Mississippi. One night she said, "I just want to tell you this: When I listen to your hymn album and especially 'God Leads Us Along,' I never fail to hear your honesty in promising that wherever we are — in the waters, floods, fire — we'll be OK." She's gone through some dark, painful, heartbreaking times these past few years, so this comment sharing her deep feelings — she's not usually into being all that verbal with her feelings — made me know again that she still listens to her little sister, and that reminds me that God made no mistake in having Lavern Sanders Whiteside be my big sister.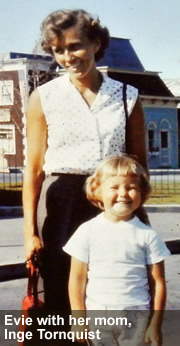 Evie
The women who have helped me along this journey of 57 years are the ladies that I am closest to. My dear mom, Inge Tornquist, taught me ways of delivering a song, like none other — because she lived the message and exemplified true worship of the Lord with her life. As a widow, she still carries on in His joy every day. My father's mother, "Bebbe," went home to Jesus when I was just 7, but her faith and humor lingers with me. Jenny Tornquist led the "string band" in her Pentecostal church in Grimstad, Norway. As a young widow with five children to raise, she made potato cakes and did laundry for people in order to get by. Bebbe found herself in great need many times in her life, yet the Lord always provided — even sending angels on occasion to help her! Jenny Lampion, age 29, is my daughter and the wonderful mother of our first grandchild, 2-year-old Max. I'm still learning from her as she unselfishly serves her family, her church and others with a big smile, never seeking recognition or approval. Her faith is solid, pure and contagious!
Angela Primm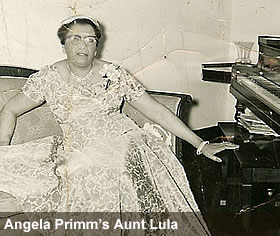 I often speak of my wonderful mother, who carried the weight of her family with a 7th grade education and her love for God! She is the hero of my life, teaching me life's principles through love that both embraced and disciplined. But there is another hero I honor so dearly known as "Aunt Lula." She never bore children, but God gave her to our family to help my mother raise us. She was a very classy insurance lady, who had a heart as big as the world, and she shared without tiring. Even though we didn't have much, what we had we shared and watched God multiply! She humbly and lovingly displayed both dignity and value to a culture in which people were taught they had neither. But Aunt Lula found hers and made sure we "got the t-shirt." She made sure we loved God, mankind and ourselves. She made sure we had what we needed to feel good about ourselves. She taught that each life has a purpose, in spite of its obstacles. "Take your lemons and make your sweet lemonade, Baby! And you can't get the sweet without the sour! Tell me how'd you know the difference!"
Reba Rambo-McGuire
My mother, Dottie Rambo, was quite a poet.
As a young girl, I grinned as she savored words on her tongue like a wine connoisseur tasting the perfect aged vintage. When she caught an interesting word or phrase that intrigued her, she would say it out loud at least three times to see how she liked the sound of it in her own voice. If she wasn't sure of the definition, she'd ask me, "Jeeb, what exactly does that mean?"
On command I would snap into a joyous, frenzied search through my all-time favorite birthday present: a huge dictionary Mom and Dad tucked inside a hand-tooled leather satchel they purchased in Mexico. I hauled it around everywhere!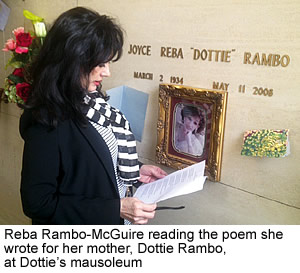 I've been a word collector for as long as I remember. My Kentucky cousins collected stamps, rocks, dolls and posters of their favorite celebrities; I had fishbowls and boxes with words and definitions scribbled on little pieces of paper. Why? Mama taught me words matter, and the best word at the right moment really matters.
I watched her faithful pen push words and phrases around on the notepaper like tiny furniture till they flowed perfectly in her lyrical design. She labored over the smallest detail. So many evenings when her work was put away she would light a candle and we'd snuggle up under Ma's patchwork quilt while I read poetry aloud. She directed the writing's tempo with slender finger batons. The routine was simple; read through completely, slowly, carefully, then once again as we digested the meaning. Next, the best part! "Now, sweetie, what do you think the author is implying in this couplet?" she asked. "I wonder who 'the Tyger' is in Blake's poem?"
She convinced me that my opinion mattered.
Today, five years after her home-going, I wave the incense of sacred gift upward to the listening cloud of witnesses. I see her fingers sway in graceful dance. Perhaps the greatest heaven and earth interactions are holy moments gathered 'round communal fires of simmering words.