Christmas 2011 will be unlike any in recent memory for me. After living in our home for two years, my sweet wife Vonnie's mom, Maria, changed her address to Heaven in August. She was not just my mother-in-law; she was one of my dearest friends. But then, most anyone who called her friend counted her among the dearest. Though we celebrated Christmas seasons together for only seven years, it seems like a longstanding tradition to eat her famous Cranberry Jell-O Mold.
This wonderful dish was not just an in-house favorite. Even with crippling arthritis making it a difficult task, her doctor and his staff got one, her church savored every bite at pitch-in's, the Gaither family Christmas party table enjoyed the dish, and my plate always had room for a heaping helping! There are no clues as to where the recipe originated, so it seems only right to call it "Maria's Cranberry Jell-O Mold."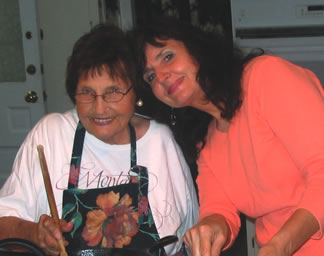 (Pictured left: Vonnie with her mom, Maria)
Her younger days working as a produce manager in a grocery store likely fueled her love and appreciation for good food. Daily installments of the Food Network helped her through the difficult days before she left us. She found comfort, watching people cook and prepare food almost all day long. Then, in her precious Polish accent she would say something like, "I don't know why, but I crave a torte."
We will miss Maria this Christmas, but I feel confident I will be enjoying some of Maria's Cranberry Jell-O Mold!
Maria's Cranberry Jell-O Mold
Ingredients
• 2 pkgs of raspberry jello (3 oz)
• 1 cup of hot water
• 1 can of jelly cranberry sauce (mashed)
• 2 mashed bananas
• 1 can of crushed pineapple with juice (20 oz)
• ½ cup of nuts
• ½ pint of sour cream


Directions
1. Dissolve jello in hot water and mix in other ingredients except for the sour cream
2. Pour half into jello mold and let sit in freezer for 30 minutes
3. Leave other half out at room temperature.
4. Spread ½ pint sour cream on set jello
5. Pour on rest of mixture
5. Let set and serve